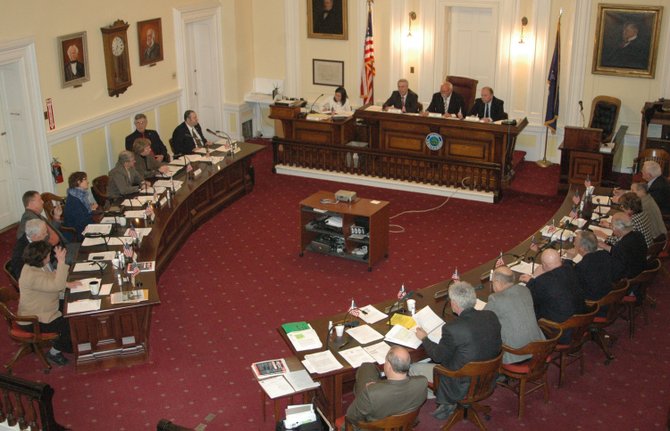 continued — "If you close that bar two hours early, you do have people who are going to take that party someplace else," Moriah Supervisor Tom Scozzafava said. "In a barroom or restaurant, maybe they are better off in an environment where someone is watching them."
MacDevitt said that the push for the change in the hours was to "disincentivize," the use of alcohol.
"You are looking to change the norm, and you are looking to change it over time," he said.
"Irresponsible people are going to do irresponsible things," North Elba Supervisor Roby Politi said. "I really do not believe that it is as much the hour."
Schroon Supervisor Michael Marnell said that there are other issues that should also be addressed when it comes to the abuse of alcohol.
"Six packs are now twelve packs and twenty four packs and they are getting even bigger," Marnell said. "Stores used to not be open on Sunday and now they are. I think the problem is buying the booze from stores and drinking in uncontrolled places has become easier."
Supervisors also spoke about feedback they received from their local bars and restaurants.
"Lake Placid is a little different than most of the communities in the county," Politi said. "We do have a different economy and events that run well into the late hours of the night. There is a consensus in the Lake Placid community that a 3 a.m. closing time would suffice."
"Although neither of them stayed open until 4, neither one wanted that right to be taken away from them," Wilmington Supervisor and committee chair Randy Preston said. "We are a tourist county, and I think that we have to be very careful restricting commerce."
"My concern is that I thought before you could get a special event waiver but that appears to be only for New Year's," Jay Supervisor and County Board Chair Randy Douglas said. "We are going to have our international softball tournament, which has games that go into the night, and I know that it makes up about half the revenue that the two bars in my town make for the year."
"I did listen to the restaurant owners, and that is why I wanted to come forward with this compromise," said Chesterfield Supervisor Gerald Morrow, who originally moved for the change last month.
Morrow added to the resolution an amendment to take a "Good Friday Law" off the books which barred the sale of alcohol from noon until 3 p.m. on the Friday before Easter.
"Nobody abides by it," Morrow said.
Blades voted against the resolution as amended, saying he could not support the Good Friday change.
Vote on this Story by clicking on the Icon