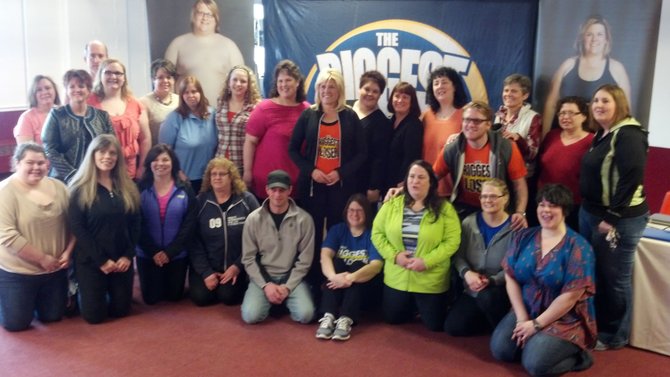 continued — During the presentation they shouted the number of pounds they lost through the local program. Numbers as high as 55, 38, and 45 were shouted.
Altona resident, Nicole Bruno shared her success story with the Evans duo about how she lost over 110 pounds since beginning the program.
"I joined the Biggest Loser group and I lost 71 pounds in the program and I learned alot about how exercise and good nutrition are so important," said Bruno.
Bruno said through the program she has learned a lot about what she is capable of.
"In order to be healthy you are going to have to exercise," said Bruno. "When I started the program I couldn't run this room, now I'm running marathons.
Bruno said her two sons, age 15 and 5 were her inspiration. Her older son even runs some marathons with her. Bruno's sister, Lisa McDonald, was so inspired by her sister she joined a similar program in Champlain and lost 80 pounds.
"I would definitely tell anyone thinking about joining this program that they can do it," said Bruno. "It's one day at a time, it's not a quick fix, once you choose to start you have to evaluate eating habits and exercise and you have to keep it to get there."
Run to Plattsburgh
Past events have brought large crowds Parelman said.
"It has huge benefits, it kind of covers a few things for one local residents get to come out and it's an event where they can take part in the outdoor recreation we have to offer and also showcase our beautiful location our beautiful city to visitors that might not think a marathon or a 5k or a 10 k is possible here," said Christy Kennedy with the Adirondack Cost Visitors bureau in the North Country Chamber of Commerce. "I'm very excited on multiple levels."
Vote on this Story by clicking on the Icon