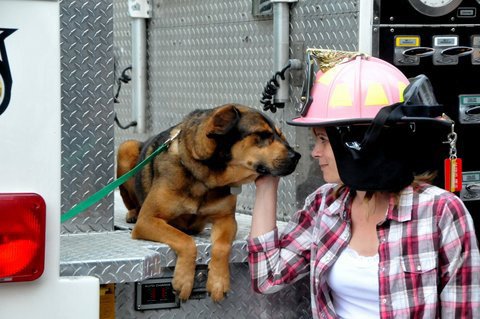 continued — Throughout the day the Mineville-Witherbee FD will conduct tours of the station and firefighter apparatus, allow visitors to try on firefighter gear and provide activities and stations throughout the fire house for visitors. The fire department will discuss the requirements to be a volunteer, as well as conduct demonstrations, answer questions, and let visitors know how to get involved in the fire department.
"Come on out and join us for this unique recruitment day at our fire house," said Fire Chief Adam Wright. "This is a great opportunity for our neighbors to observe the exciting tasks of a firefighter. Our current members love what they do; they are everyday heroes who help neighbors in need. We hope our recruitment day will inspire other area residents to join our fire service family."
Moriah
The Moriah Fire  Department will open its doors to the community Saturday and Sunday, April 27 and 28, for the annual state-wide recruitment event.
Fire Chief Brian Glebus said the department will be open from 10 a.m. to 2 p.m. on both days.
"We're going to open up to show taxpayers just what they are paying for," said Glebus.
Not only can people tour the facility, but there will be demonstrations throughout the day with a window rescue operation with props and demonstrations for interior drills.
"We want people to see what we do here and how we help them if we have to take a call," said Glebus.
The day will be an opportunity for anyone interested in volunteering with the fire department a chance to talk to people who have gone through the training.
"We have been very fortunate to have a full roster and our junior program is really bringing in volunteers at a younger age and getting them involved in their community, but we always need more help," said Glebus.
Vote on this Story by clicking on the Icon