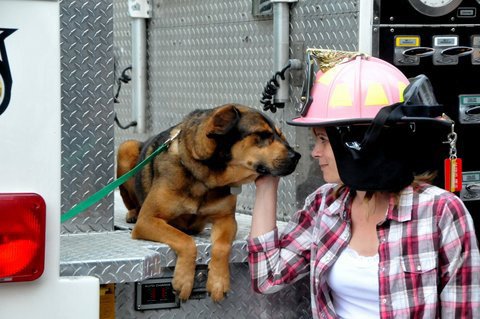 continued — The event will feature Larry Lauman's Chilson apple pancakes for breakfast and burgers and hot dogs for lunch at the fire department at 60 Putts Pond Road. People can learn how to become an auxiliary department member or a firefighter member. People can also tour the fire trucks and equipment. Call 585-2510 for more information.
"The success of a volunteer fire department depends on all kinds of people, not just firefighters," said Chilson Chief Steve Hunsdon.
A volunteer fire department, he explained, has two kinds of members — firefighter members and auxiliary members.
"We're always on the lookout for auxiliary members — volunteers who can help us with things like planning special events, or maintenance and repairs — just about anything folks can do, from cooking to mowing grass to office paperwork, we can use their help."
Chilson FD auxiliary members do not have to live within the fire district.
In addition to breakfast and lunch, visitors to the open house will be able to look over the fire trucks and to inspect the firefighters' turn-out gear and other tools of the trade. Families and children are welcome.
For more information visit www.recruitny.org or contact Chilson Volunteer Fire Department at 585-2510 or stephenephelpsjr@gmail.com.
Crown Point
The A.E. Phelps Fire & Rescue Co will hold an open house 9 a.m. to 3 p.m. Saturday and Sunday, April 27 and 28, at the fire house at 2764 Main St.
"We are planning a jaws demonstration at approximately 1 p.m. on Saturday," Chief Randy Clarke said. "We'll have fire/EMS/ice water rescue/fire police displays, kids activities, refreshments and safety information. There will be fire personnel on hand to answer questions and our trucks and ambulances will be on display."
For information call 597-3211.
Mineville-Witherbee
The Mineville-Witherbee Fire Department will hold an open house Saturday, April 27, 9 a.m. to 2 p.m. at the fire station at 112 Raymond Wright Ave.
Vote on this Story by clicking on the Icon