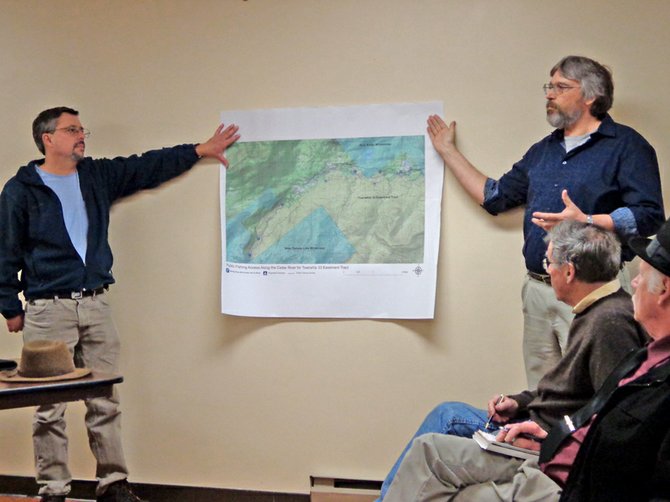 continued — • School Mural: It was announced that a colorful and vibrant Adirondack animal-themed mural would be created at the Indian Lake Central School. The concept of creating the mural is to bring the students and community together through collaboration, education and fun. The mural will be created June 3-7, and community adult volunteers of all ages and skills are being sought to participate. Interested parties should contact Lauren Walker Arsenault at 648-5024.
• Assemblyman Marc Butler: Supervisor Wells commented on a letter that was received from Assemblyman Butler acknowledging the Town Board's efforts on the part of the school district in trying to reverse the rollback in state aid for the school and pledging his support of these efforts. Wells communicated the gratitude of the entire community for the efforts of Butler and all the representatives in helping to successfully restore state aid to the Indian Lake Central School.
• Cell tower status: There have been numerous reports of cell service available in town. Supervisor Wells knew that there were certainly tests being done by Verizon, but there has been no official announcement that the tower has been lit permanently, nor is there any indication as to how wide ranging the signal will be once the tower is live. Official updates will be passed along as they are received. Verizon customers will have service in town. Wells pointed questions, troubleshooting and problems to be directed to Verizon at 800-876-5753.
• Bids: Two items were sold by bid. A 1991 Polaris ATV was sold to Ed Winchell for a winning bid of $126. A 1955 Willy's Jeep was sold to Everett and Kelly Voorhees for a winning bid of $1,465.28.
• 2014 Snocade: Councilwoman Sally Stanton announced that a meeting for 2014 Snocade will be held on April 15 at 7:15 p.m. in the Indian Lake Central School Cafeteria.
The next regular Indian Lake Town Board Meeting will be held on May 13 at 7 p.m. at the Town Hall on Pelon Road.
Vote on this Story by clicking on the Icon