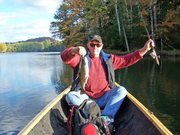 This coming weekend, I'll be heading back down to Newcomb to attend the final offering in the "Got Game" lecture series.

If the snow holds up, I may attempt to squeeze in one last ski trip of the season. However, if the weather turns warmer, I may just trade in my ski poles, and grab a fishing pole.

There is still over a foot of ice on the ponds, and a dense snowpack in the hills, but it will all melt off quickly with a few sunny days, some heavy rains and a stiff wind.
For those that must fish, many local lakes and pond are already showing plenty of open water around the inlets and outlets.

April's Full Moon, which is scheduled to arrive on the 25th, will prompt the annual smelt run. Even if the ice remains in command of the lakes and ponds, anglers will find opportunities around inlets and feeder streams as smelt and later suckers return to spawn in the streams.
Currently Newcombites, Minervaphiles and Long Lakers are all celebrating the success of the locally produced video production that recently went viral, and well beyond the town limits.
Eventually the video, which featured a serious spoof of the dilapidated condition of the local highway infrastructure, made it all the way down the line to the not-so-hallowed halls of the government chambers in Albany.
Although nearly 69,000 acres of local state land may soon be opening to the public, it appeared to many that State Route 28N was going to retain the title as: "The wildest ride in town." But then came the video.
Upon its arrival, politicians of all sorts took notice, and soon there were promises of an extensive and expensive project to complete a major refurbishment of Route 28N from Minerva to Long Lake.
Joe Hackett is a guide and sportsman residing in Ray Brook. Contact him at brookside18@adelphia.net.
(Continued on Next Page)
Prev Next
Vote on this Story by clicking on the Icon