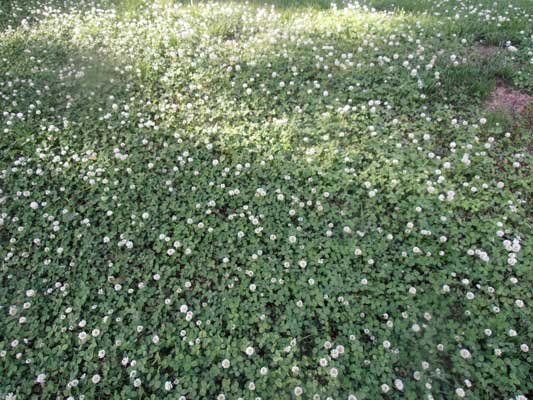 The benefit to frost seeding is the seed is in place very early. The seed is in contact with the soil and ready for the early spring rains to start growth. Clovers work excellent if you do it right.
The plan "B" option is the traditional planting method which is to wait until things dry out, then plow or disc a food plot site, then spread seed and rake it in and finally mulch it. Then wait for growth. But I know you have better things to do when things dry out - turkey hunting season and fly fishing of course. Someone out there thought I was going to say rake the yard and paint the house. Yea right!
Okay, you have the seed in the ground (double the seeding rate for frost seeding around 10 pounds per acre), so now what? You need to manage it. Red clover lasts about two years, and white clover a few years longer with management. For clovers to grow, they need sun and fertilizer. Once things start growing, you need to watch for the young clover plants. They need sun. If there are competing plants, like grasses, you need to mow them to allow the sun to reach the clovers. Mow the competing plants, not the clovers by keeping the mower, brush cutter or whatever, up above the young plants. This is important even for grazers. The cows need to get into the pasture and chew down the grasses to let the clovers get sun. A few light applications of fertilizer will help get things growing. Clovers are legumes so they don't need much nitrogen so a mix lean on "N" will work and it won't encourage grasses to grow. Periodic light applications of fertilizer and agricultural lime, and some wood ash should do the trick. Compost works great as well. Get a soil test if you can, so you can put on what the plant needs.
Rich Redman is a retired District Conservationist for the USDA Natural Resources Conservation Service and an avid outdoorsman. His column will appear regularly. He may be reached at rangeric@nycap.rr.com.
Vote on this Story by clicking on the Icon