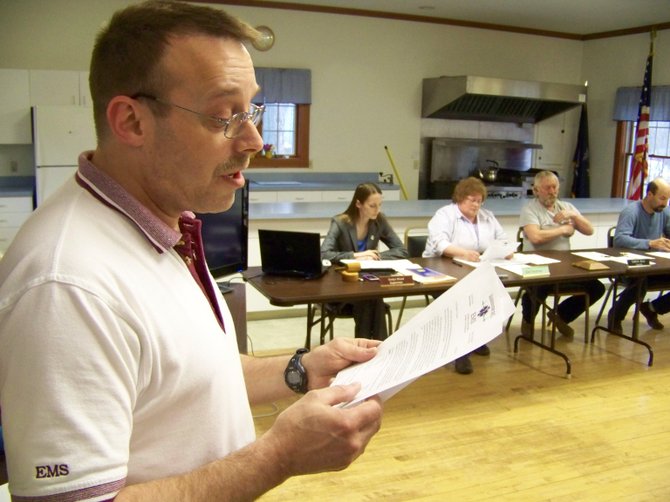 continued — Wood replied that she had heard from many other residents who weren't attending the meetings because they were uncomfortable to voice their opinions, considering the prevailing controversy.
Resident Richard Bardi proposed a compromise, asking the town board to award a contract to the Thurman squad for two years while they reorganized and raised their standard of care. He predicted that the contract with Warrensburg could force the Thurman squad out of existence, and Warrensburg EMS, after becoming "a monopoly," might escalate their rates.
"With no competition, the town would have no choice to accept whatever they offer," Bardi said.
Board member Al Vasak responded that the town bankrolling the Thurman squad had its own risks, with the possibility of having to allocate more and more money, considering their financial stresses and uncertain future. Seaman added that the local squad would only be providing Basic Life Support, and ALS support would be an extra expense.
Resident Joyce Eddy questioned that she was paying plenty for fire service, was paying $187 more in taxes this year, plus $320 more per year for garbage collection after the town discontinued it last year to avoid a hefty tax increase.
"People here wouldn't mind paying $50 or $100 more to keep our local squad going," she said.
Resident Erin Beadnell offered her views.
"Thurman residents need to stick together; we need to keep our jobs here and keep our community whole," she said. "You are ripping this community apart."
Supervisor Wood said that contracting with Warrensburg EMS was a matter of getting the most expert reliable service at the lowest possible cost.
"It's our obligation to make sure we spend tax dollars wisely — and get the highest level of care at the best possible price," she said. "Warrensburg has been providing reliable, consistant care for our people."
Vasak suggested that the public voluntarily contribute toward Thurman EMS rather than adding to the tax burden.
Barbara Farrell called for the town to put the EMS contract up to public. vote. Wood responded that doing so would be contrary to state law.
Resident Mike Eddy said that although Warrensburg EMS "does a super job," sealing a deal with the agency would have its consequences.
"If the board signs a contract with Warrensburg EMS, every town board member might better pack their bags and go to Warrensburg, because they have no 'Thurman heart.'"
Vote on this Story by clicking on the Icon