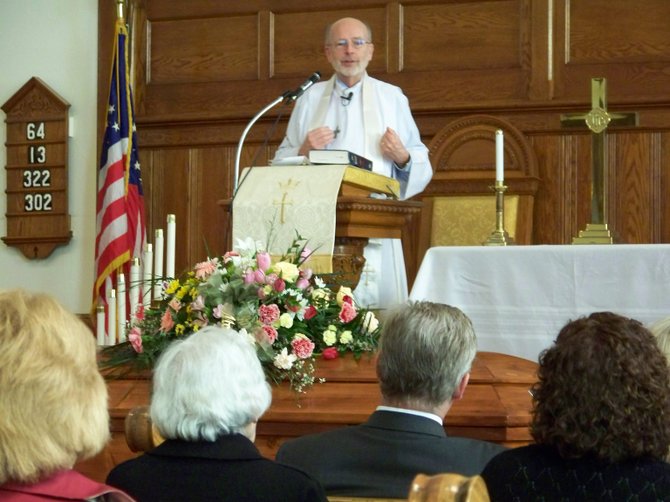 continued — "She was a person of boundless energy, a mentor and a leader," he said.
Teresa Whalen, a founder of Warrensburgh Beautification, noted that Frulla was dedicated to preserving Warrensburg's historic buildings and promoting public appreciation for their architecture.
"An outspoken advocate, Jean created fun, educational opportunities for our youth to embrace our past and appreciate our historic resources," she said.
Whalen said she provided valuable assistance, particularly in the 1980s and 1990s, in inventorying the town's historic resources, and she worked over two decades to help get the Warrensburgh Mills Historic District officially named to the National Register of Historic Places.
"Jean was the Susan B. Anthony for the cause of architectural preservation in our community," Whalen said.
In his remembrances, David Frulla, son of Jean and Rino, paid tribute for the community of Warrensburg, particularly those who reached out to the couple in their later years.
"No one ever said no," he remarked. "Mom, sorry I used a double negative," he added with a smile.
Jean Frulla taught high school English from 1949 to 1990 at Warrensburg High. She mentored student activities, including drama programs, the student newspaper, the National Honor Society chapter, and class trips. During her career, she was honored by the New York State English Council — chosen among thousands of teachers from elementary through college level — as a Teacher of Excellence.
Town Museum of History Director Steve Parisi also wrote this week in an email that Jean Frulla was a leader in the effort to preserve and appreciate local historic buildings. He observed she was a founding member of the Warrensburgh Historical Society, and had guided a class project in creating a video of the Emerson Sawmill, for generations a treasured landmark. He continued that Frulla also made the first and largest contribution towards professional restoration of the 1976 Bicentennial Mural on the exterior wall of the museum.
Vote on this Story by clicking on the Icon