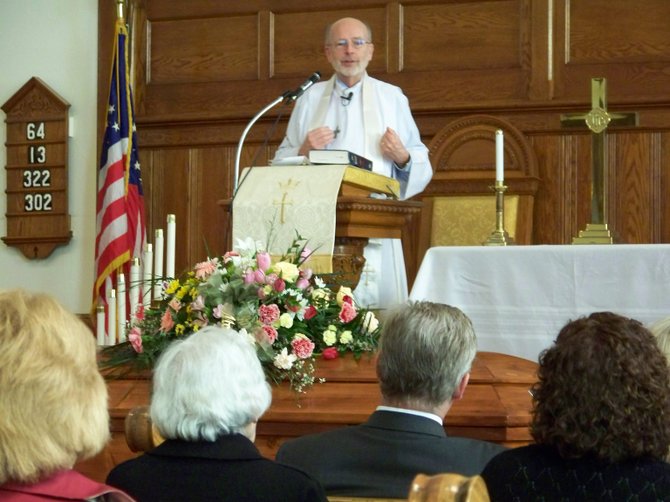 WARRENSBURG — An English teacher renowned for her exacting standards who taught three generations of Warrensburg students — and in later years dedicated her time to preserving the town's history, was recalled fondly by townspeople participating in her funeral services.
Jean Hinckley Frulla, who was born Sept. 23, 1927 in Proctor Vt. but adopted Warrensburg as her hometown, passed away Sunday March 31. Her funeral was held Friday April 5 at the United Methodist Church of Warrensburg. Jean's husband of 53 years, town councilman Rino Frulla, passed away in 2006.
Warrensburg High School alumnus and former county Sheriff Larry Cleveland, in a eulogy peppered with good-spirited humor, recalled how Frulla had inspired students to pursue excellence, preparing them well for life's challenges.
"It was sheer terror when high school students learned they got Mrs. Frulla as a teacher," he quipped, noting she required perfect grammar and syntax from her students in their writing assignments.
"She was strict — she wanted you to do things properly," he added.
Cleveland continued that compositions students turned in to her would be handed back to them covered with red-penned corrections, time after time, until they were finally resubmitted to her standards.
"At graduation, I was still be correcting compositions that I'd first submitted in September," he joked. "They had to be perfect."
Cleveland talked of how she worked with him repeatedly on his oral book reports, which helped him overcome his fears of speaking in front of others. Cleveland has since routinely been making public presentations in his career in law enforcement as well as instructing criminal justice and mortuary science courses, he said. Also, Frulla corrected Cleveland's Master's Degree thesis, he added.
"I know she profoundly effected me and I know she did with many others too," he said, noting she'd likely been a inspiration to thousands of students.
(Continued on Next Page)
Prev Next
Vote on this Story by clicking on the Icon