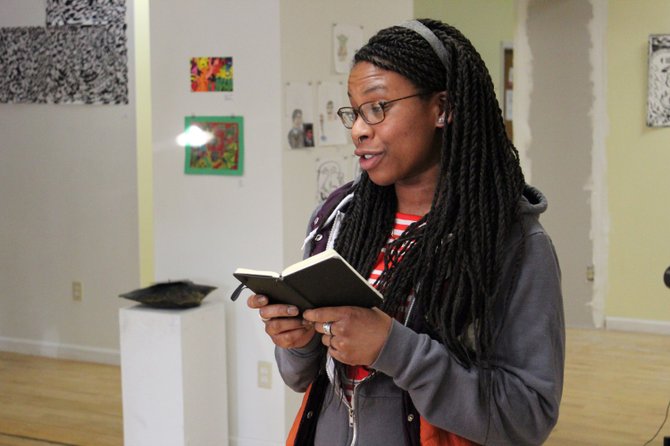 PLATTSBURGH—ROTA Gallery was packed with energy and bathed in the light of the setting sun on Saturday, March 30.
Artists mingled with visitors, who came to see the 40 photographs, paintings and sculptures on display at the Spring Open Community Show.
"Thank you all for participating and viewing," said Gallery Coordinator Kaitlyn Donovan to the gallery-goers. "We couldn't do this without all of you."
One of the artists, photographer Jen Curran-Tuller, was on hand, and so were seven of her images.
It was the first time she has shown her work in public.
"Up until now, I've always just taken pictures and blown them up and given them to family members," she said.
Curran-Tuller grew up in Southern California and began taking photographs as a child.
She moved to the North Country about six years ago after meeting her future husband.
The changing seasons, something Curran-Tuller didn't get to experience in Southern California, have inspired her, and she wants to begin capturing winter images next year.
Showing her work at ROTA has also inspired her.
"It's nice to see what other people are doing, and to see how much talent is in this community," Curran-Tuller said.
Sharing a wall with Curran-Tuller's picture of an autumn leaf suspended over a stream by a spiderweb is a piece by Katrina Rigsbee.
It is a painting of a woman, her dark skin a compliment to the warm red hues behind her.
Rigsbee created the image as part of a class she took at SUNY Potsdam, where she is a sophomore pursuing a fine arts degree.
Despite the detail in the subject's hair, eyes and skin tone, Rigsbee insisted that photography, not painting, is her real passion.
She even had a camera around her neck to prove it.
"I really love film and the whole process of developing," Rigsbee said. "I especially love capturing the human form. I find it fascinating."
(Continued on Next Page)
Prev Next
Vote on this Story by clicking on the Icon