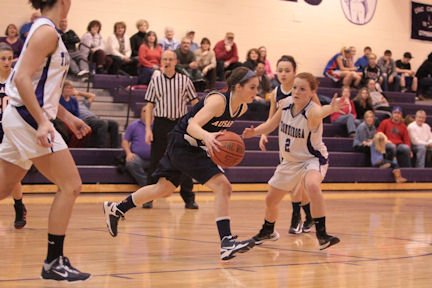 Roster
Madison Rondeau
Forward, AuSable Valley
Rondeau could be considered the sixth woman of the year, coming off the bench for the Patriots to score 145 points and connect on 15 three-pointers, tying her for fourth in the Valley. The sophomore also averaged four rebounds.
Logan Snow
Guard, AuSable Valley
The junior guard played her biggest game of the year against Hoosic Valley, scoring 20 in the upset victory. Snow finished the season with 182 points thanks to hitting 37 free throws and connecting on 15 baskets from long range.
Kyli Swires
Guard, Willsboro
Swires was the leading scorer in her senior season for the Lady Warriors, finishing second in the Valley with 21 three-pointers made as part of her 182-point season. Swires also finished in the top five in free throws with 37.
Kearsten Ashline
Forward, Elizabethtown-Lewis
Ashline, a senior, was the third leading scorer for the top offense in the Valley, scoring 164 points on the season while connecting on 14 three-point field goals along the way. She was the leading scorer in the Class D semifinals.
Naomi Peduzzi
Center, Keene
The sophomore center started her varsity career by scoring 178 points while connecting on 32 free throw attempts. Peduzzi was a solid post presence for Keene, as she controlled the glass and was able to affect inside shots.
Tucker Geiger
Forward, Keene
The junior forward rounded out the top 10 of Valley scorers with 173 points on the season while being a strong defender and rebounder for Keene, which posted one of its best records in recent years with a 13-5 mark.
Amanda Mahoney
Center, Willsboro
A senior center, Mahoney was one of the key factors as the Lady Warriors reached the semifinal round of the Class D tournament. She scored 175 points on the season, connecting on 78 field goals while hitting 19 free throws.
Vote on this Story by clicking on the Icon