The All-Valley team is a 12-player "roster" made up of student-athletes from schools within the Valley News coverage area, including AuSable Valley, Elizabethtown-Lewis, Keene, Westport and Willsboro.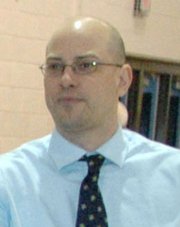 Coach: Roger Long
AuSable Valley
Long piloted his young team to the Section VII/Class C title before helping to engineer the upset of the state tournament, defeating defending state champ Hoosic Valley in the regional finals, sending the Lady Patriots to Troy for the state Final Four.
Starters
Captain: Meghan Strong
Guard, AuSable Valley
The catalyst behind the Lady Patriots run to the Final Four, Strong finished one point shy of the Valley scoring title with 310 points. She was the top three-point markswoman (46), while finishing second in field goals (111) and fourth in free throw makes (42), along with a 4.0 assists and 3.2 steals average.
Taylor Saltus
Guard, AuSable Valley
The perfect complement to her backcourt mate, Saltus helped the Patriots by averaging over five steals a game while being the fifth-leading scorer in the Valley with 244 points in her junior season. She was fourth with 99 field goals.
Brendee Russell
Guard, Westport
The Lady Eagles' junior guard was the main offensive cog this season, scoring 270 points (third highest in the Valley) while connecting on an impressive, Valley-leading 73 free throws (next highest: 58). Russell hit 98 field goals.
Lily Whalen
Forward, Elizabethtown-Lewis
The junior leader of the Lady Lions was the Valley's leading scorer on the season with 311 points. She also made more baskets (117) than her peers, while finishing second in free throws (58) and third in three's (19).
Shonna Brooks
Forward, Elizabethtown-Lewis
The junior forward had the ability to dominate inside as score from the outside, collecting 251 points (fourth in the Valley) on 101 field goals (third). She also connected on 45 free throws (third) and was key on the glass for ELCS.
(Continued on Next Page)
Prev Next
Vote on this Story by clicking on the Icon