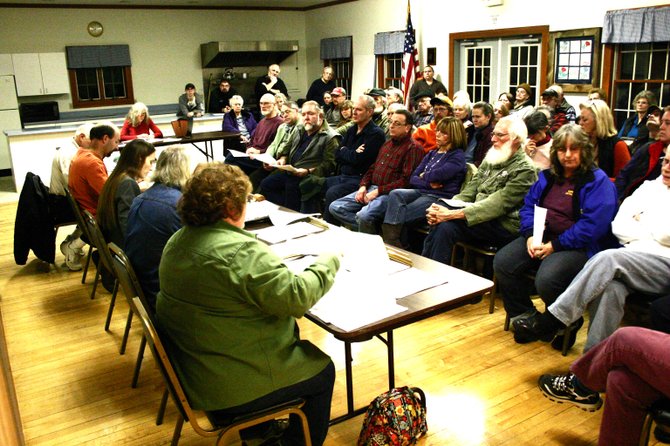 continued — Thurman Emergency Medical Services President Jean Coulard and Warrensburg EMS squad captain Steve Emerson both said the two agencies had been negotiating a merger agreement earlier this year.
Emerson and Coulard said the Thurman squad officials had proposed that Warrensburg Emergency Medical Services take over all of Thurman EMS's assets, including their squad building, their ambulance and equipment, for $150,000 — far less than market value. Coulard said that her squad officials had agreed to use the cash to pay off any debt, and then hand over the balance, estimated at about $30,000, to the Warrensburg squad.
Emerson said Thurman squad officials ditched the proposed deal when his agency's officers asked for a list of debts and assets.
Coulard disputed Emerson's assertion.
"There was no reason for us to provide the list — and they never showed up to look at the assets," she said.
Coulard continued that there were more fundamental reasons for not agreeing to a merger — Warrensburg EMS officials wouldn't guarantee they'd accept all the existing Thurman EMS members into the merged agency, and they also wouldn't pledge to maintain 24/7 presence of an ambulance and personnel within Thurman boundaries, she said.
The pending contract between the town and the Warrensburg squad, however, implies that such presence is to be maintained.
The draft agreement also calls for the town to pay Warrensburg EMS immediately for the squad's coverage through 2013, and $50,000 to be paid for service in 2014. Coulard expressed dismay that the town was wiling to pay Warrensburg that amount, yet cited lack of funds to pay that amount to her squad. Wood countered that it was a matter of the neighboring squad's proven ability to provide consistent, expert service.
The contract also states the town may provide a squad building and garage — and if so, equip it with furniture, maintain it and pay its utility costs.
Wood said these latter provisions were included in the draft contract because the disposition of the Thurman squad's headquarters — ideal for providing local service — were uncertain at this time.
Wood said that in the absence of a merger agreement, the town board was carefully evaluating the prospect of signing the contract with the Warrensburg squad.
"Warrensburg EMS offers high-quality ALS services at a very competitive price," she said. "What's most important is that we have consistent coverage — our citizens need to know that when they dial 911, well-trained personnel will respond to their calls."
Vote on this Story by clicking on the Icon