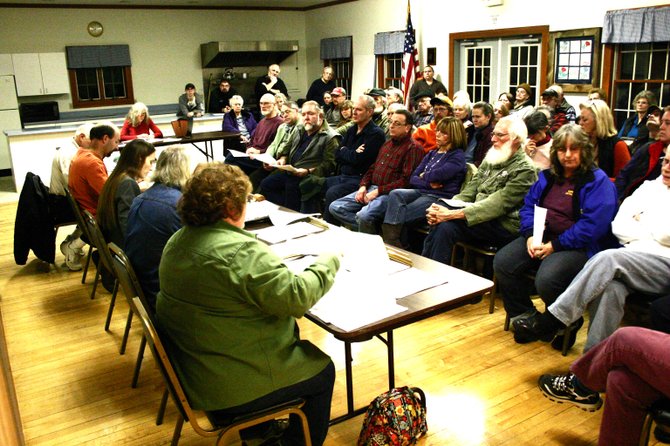 ATHOL — Faced with questions of the viability of their local ambulance squad, the Thurman Town Board is now considering signing a two-year, $80,000 contract with the Warrensburg ambulance corps to provide emergency medical services to Thurman residents. A public hearing on the proposal is to be held at 6:30 p.m. Monday April 8 in the Thurman Town Hall.
The contract consideration follows recent outcry from members of Thurman Emergency Medical Services — and some town citizens — who believe the locally based squad can provide quicker and more neighborly response.
Four of the five Thurman Town Board members, however, have contended over several months that the Warrensburg squad has the financial and personnel resources — and the advanced training — to presently provide the best service. They've also expressed concerns over whether the Thurman squad can continue to be certified, considering their recent record of intermittent shutdowns due to financial distress, and the state's ever-increasing mandates for training and equipment. They've also cited the Thurman squad's repeated promises to get members certified in Advanced Life Support, but their failure so far to follow through.
With various regional emergency officials citing that the Thurman squad can't pay for qualified round-the-clock personnel with merely 90 or so calls per year, these Thurman Board members have urged that the Thurman squad merge with the Warrensburg squad. The regional emergency officials have also expressed concerns that the Thurman squad can maintain its mandated medical certification.

Despite a pending contract with the Warrensburg squad, a combined squad or partnership is the preferred option, Thurman Supervisor Evelyn Wood said April 2. She said such a partnership offered financial stability, Advanced Life Support expertise, deeper personnel resources, and efficiency of scale.
"Whether you call it a merger or consolidation, if the two squads worked together, it would be the best choice," she said. "We would really like to see it happen."
(Continued on Next Page)
Prev Next
Vote on this Story by clicking on the Icon