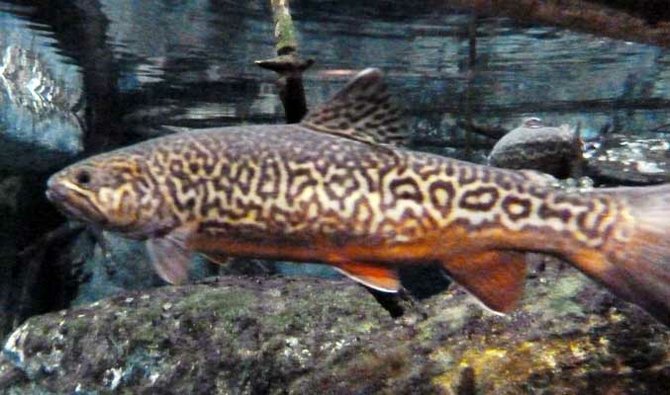 As always, the rivers and streams will take a while to warm up, and a lucky few anglers will hit the jackpot with a couple of battered old battle veteran holdover trout. The picking will be slim until water temperatures on the streams gets up into the 50-degree range.
The best bets will be found in deeper holding pools, where turbulent conditions pump warm air into the current, at the base of waterfalls, dams or serious rapids.
Anglers must fish slow and delicate, as trout will not be aggressively chasing food. It will have to bump them in the nose.
I'll be interested to hear of any further reports of tiger trout caught in local waters. The odd hybrid is the result of a mixed breeding between brown trout and brook trout, and it usually occurs in waters that hold healthy, naturally spawned populations of each species.
It appears the Chubb River, which tumbles out of the High Peaks to flow through the middle of Lake Placid village. It is one of the most productive tiger trout waters in the region.
However, I've also received reports of tigers taken on the Little Salmon River and the St. Regis River. They are an odd looking specimen, and the only fish I ever saw was taken on the upper Chubb by a young angler who claimed he had caught "a striped fish, like a perch but it's much prettier."
At the time, I was aghast to think that a perch had somehow managed to depart Mirror Lake, which connects to the Chubb River below the old Mill Dam. Fortunately, the perch turned out to be a wild spawned, native tiger trout.
I've had a few unpleasant surprises over the years while fishing for trout, and fortunately that episode was one that turned out to be quite the opposite of what it first appeared.
Joe Hackett is a guide and sportsman residing in Ray Brook. Contact him at brookside18@adelphia.net.
Vote on this Story by clicking on the Icon