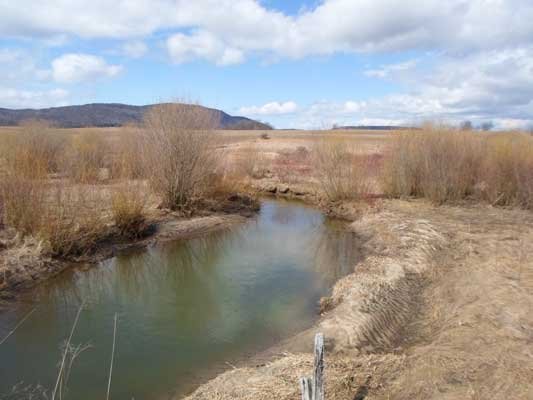 Plan ahead before you plant. Think about the habitat you want to create, such as brush and grass, early successional or mature woods. What you plant and your willingness to manage will make a difference.
Conservation is not just about stopping nutrients from getting to Lake Champlain; it's putting all the ecological and economic pieces in place to make it work for the landowner, wildlife and the stream inhabitants. Not only is it good for the stream and lake, it must be easy on the landowner's wallet. Conservation needs to be low cost and high in benefits.
Many farmers in the Champlain Valley have installed buffers along their stream banks. The Leerkes Farm in Ticonderoga planted trees and shrubbery a few years ago to protect the banks of their previously pastured stream.

Shaun Gilliland in Willsboro will be planting a variety of fruit trees, berry bushes and other plants. This will provide an alternative income in the future by selling the products like jam to supplement his beef operation. The rooted vegetation will provide stream protection, and the waste fruit will provide excellent food for bugs and worms, and yes, they both feed fish.
The Leerkes and Gillilands are Essex County Farm Bureau members, and they lead by example. These guys realize the economics of this area depends on farms, forestry and recreation like fishing and hunting. Managed habitat supports greater populations of stream life, farm and forest wildlife. What these farmers are doing is a great value to all of us, not just Lake Champlain.
Although there have been incidents where farm runoff has hurt fisheries, they are few and far between. Most streams may actually benefit from some nutrients, but that's another story.
One simple trick all of us "streamwalkers" can do is to take 2-foot cuttings from the growing willows and push them half way into the soft moist mud in the sunny bare spots along the banks. This bio-engineering technique doesn't hurt the host plant, will allow more willows to spread, provides overhanging fish habitat and keep the banks from eroding. The other great benefit: it doesn't cost the taxpayer a penny, and that in itself is a miracle of biblical proportions now days.
Rich Redman is a retired District Conservationist for the USDA Natural Resources Conservation Service and an avid outdoorsman. He may be reached at rangeric@nycap.rr.com.
Vote on this Story by clicking on the Icon