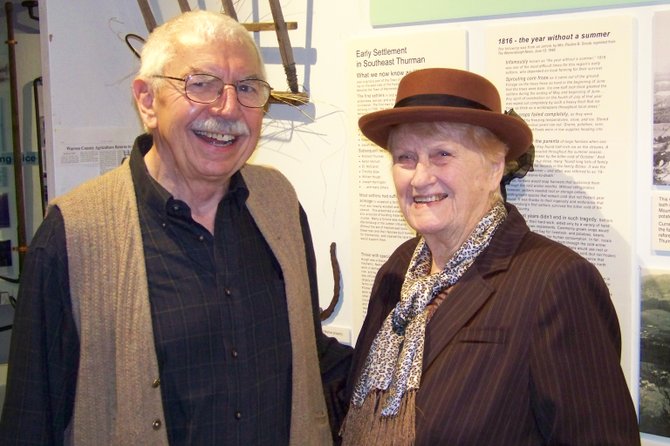 continued — One sale site with several dozen spaces soon grew to 500+ vendor spaces at six sanctioned sites, plus dozens of other private congregate sites through town. Several dozen individual yard sales through town mushroomed to 1,000 or more. Other communities from Maine to California heard of the sale's fame, and launched knockoff events.
The early years of the World's Largest included an auction each day, and Jim Galusha of Thurman was the auctioneer, LeCount recalled this week.
These debut years were casual and fun, LeCount said. In one of those early auctions, John Hall Sr. of Thurman, the famed area lawyer, donated a donkey to the Garage Sale committee to be auctioned, LeCount said, recalling how during this particular auction, she was near the stage and watching the action as she shared a bottle of wine with Magee.
"A man bid the donkey up to the price of $3,000, then donated the cash to the Chamber of Commerce — but he told us to keep the donkey," she said. "We really had fun back then."
LeCount said the purpose was not only about getting people to stop in town, but to help people pay their fall property taxes and winter fuel bills.
"We not only wanted local people to make money for the winter to come, but provide an event for the tourists during such a lovely time of the year," LeCount said.
Succeeding years saw the crowd grow to 70,000 or more — some observers have estimated as many as 100,000 people in town over the weekend. Traffic has backed up during the sale up to two miles on the Northway to get into town on the weekend's Saturday morning, with frustrating gridlock downtown.
The Chamber of Commerce grappled with the challenges of size, setting up out-of-town parking lots served by shuttle busses.
Vote on this Story by clicking on the Icon