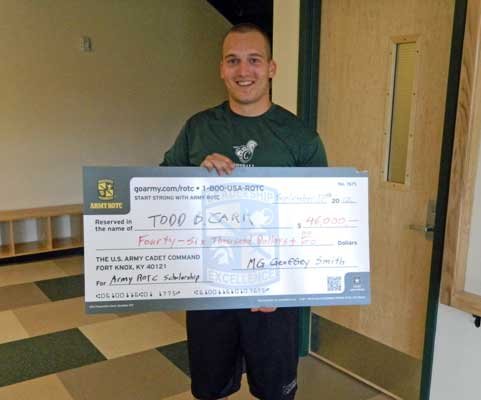 Ticonderoga — Sept. 17 was like any other Monday during the football season, as the entirety of the Castleton (Vt.) State football team gathered in the locker room for its weekly meeting to begin preparations for the upcoming week's game.
However, for linebacker Todd Carr, it was a meeting he won't soon forget.
"I got to the meetings early and was just waiting for Coach (Marc) Klatt to come in and start talking about the other games within the conference like he always does," said Carr, a Ticonderoga High School graduate. "I thought it was odd for coach to be running a little late because he is very on point about being on time for things. I finally saw coach come through the doors in the locker room, followed by all of my cadre from the ROTC program at UVM (University of Vermont). I had no idea what was about to happen."
What was about to happen was something special. For the past two years, Carr has been a member of the ROTC through an extension program with the University of Vermont. He distinguished himself in his work and since last September has served as a private in the Vermont National Guard, working as a combat engineer in Bradford, Vt.
Once Klatt entered the room he introduced his guests, Lt. Col. Mike Palaza, Maj. Robert Monette, Second Lt. Matthew Hefner and Sgt. Justin Larame, and gave the floor to Monette. Monette invited Carr up to the front of the room and explained to his coaches and teammates gathered, all of the work he has done with the ROTC program. He finished his presentation by turning to Carr and announcing to the room that Carr had been awarded an Army ROTC scholarship that will pay for his final two years of school.

The entire room erupted into applause.
(Continued on Next Page)
Prev Next
Vote on this Story by clicking on the Icon