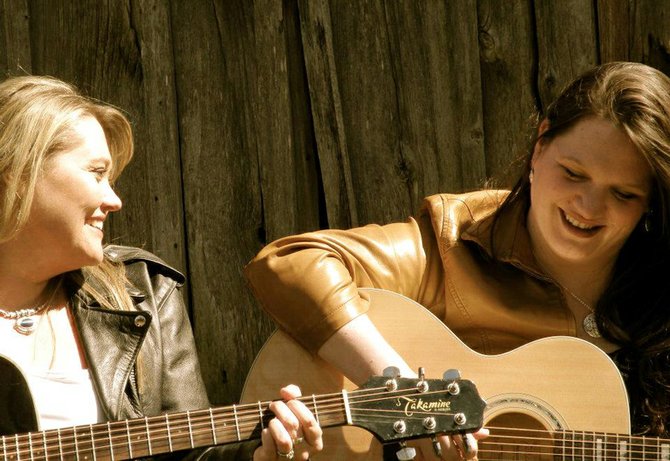 continued — The other Nashville in North Creek musicians are Renee Wahl and D.W. Dasher. Pre-event ticket sales are essential — especially over the next couple of weeks — to ensure that this event will happen. Gadway said a lack of early sales could lead to the cancellation of the event because she can't have the Nashville acts travel to the Adirondacks for free.
"It would be nice to pay them if they traveled 1,000 miles," Gadway said.
Tickets are $10 per show ahead of time and $15 per show at the door. The shows are 7 p.m. Saturday, Nov. 3 and 1 p.m. Sunday, Nov. 4.
To order tickets, call 251-2200, or stop by the following locations: The Exchange, Seven Sisters, The Foothills, the Gore Mountain Region Chamber of Commerce, Cafe Sarah, Basil & Wick's and J&J's Foxxlair Tavern.

Decadence
Decadence is an Americana band fronted by Jennifer Gadway and Katy Cole since 1999.
A true powerhouse duo, they often classify themselves as "Real women, singing real music." Combining Gadway's powerful country voice with Cole's folk and blues influences, these two unique voices come together to create a sound that is fresh and original. They have been promoting their debut album "Love Loud" in Nashville and New York City over the summer and have enjoyed local, national and international airplay.

They have shared the stage with some Nashville hard hitters including CMT Top 20 artist Don Pedigo. Being invited to play for a week of shows at Tootsie's World Famous Orchid Lounge" on broadway in Nashville has been the highlight of their summer.

They are working with HMG Nashville to officially launch their first single to the nation.
Renee Wahl
Renée Wahl writes intelligent, literate songs from the heart. Working both on her own and with Roger Prescott (Trainwreck Ghost, the Texacala Jones Band), Wahl displays a talent for creating and inhabiting characters and moments in the fashion of Lyle Lovett and Townes Van Zandt. Combine this with a voice that finds the soft parts of your soul and insinuates itself there and it's easy to understand why Wahl has been compared to Maria McKee (Lone Justice).
Vote on this Story by clicking on the Icon