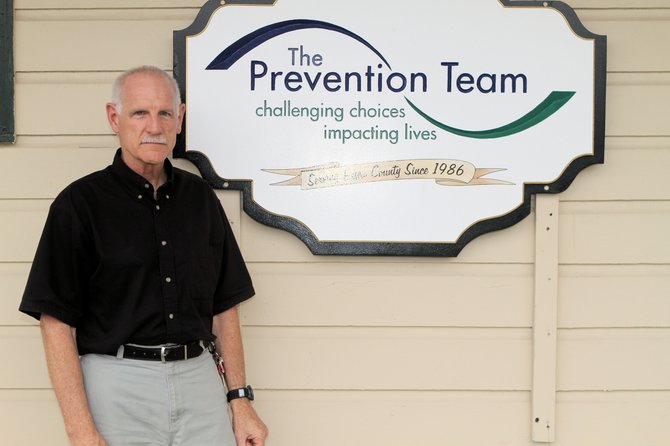 Ticonderoga — October is National Substance Abuse Prevention Month.
The attention garnered by such a declaration is welcome by The Prevention Team, but members of the Ticonderoga-based drug education and prevention program know their work is an on-going effort.
"The drugs of choice seem to ebb and flow," said Doug Terbeek, Prevention Team executive director. "Every generation needs to be taught about the dangers of substance abuse. It's a never-ending battle."
It's a battle The Prevention Team has been waging for 27 years. Terbeek has been at its helm the entire time.
"It's funny how things change, but really don't," he said. "We used to have a heroin problem, but that faded.Now we're seeing heroin again. Cocaine seems to be coming back, too."
With eight full-time employees, The Prevention Team is a non-profit agency providing education and prevention services for Essex County. It has educators and counselors in Elizabethtown-Lewis, Crown Point, Ticonderoga, Moriah, Minerva, Newcomb, Westport, Willsboro and Lake Placid schools.
"We try to make contact with every student at least once a year," Terbeek said. "Obviously we can't see every kid every day and there are some students we see more often than others."
The Prevention Team is also active with adults, having formed partnerships in several communities to combat substance abuse. It sponsors a drinking-and-driving education program, trains servers and merchants about alcohol sales and operates an alcohol-awareness program for court-referred teens.
This past year the Prevention Team also played a lead role in efforts to ban synthetic marijuana, also know as K2, in New York State and lobbied the county board to prevent alcohol sales at the annual county fair.
"We do a lot of different things," Terbeek said. "A lot of our programs are opportunistic; when we see a need we step in."
In the past years the Prevention Team has conducted Walks Against Drugs, Youth to Youth programs, SAFE HOMES, Natural Helpers, Reconnecting Youth, FAST, Coaches and Captains, Boquet River Theatre Festival, Reality Check, Teen Institutes, Connecting Youth and Communities (CYC), One Second Exhibit 2008-2009, Prevention Team/Vermont Voltage Soccer Camps and BEST Walks.
(Continued on Next Page)
Prev Next
Vote on this Story by clicking on the Icon