continued — "I love being out in the night hours," McCulley said. "It's beautiful. Of course, about March I was ready for the daytime hours again. But I did enjoy it. Snowmaking was a fun job."
In 2009, McCulley — the assistant Whiteface GM at the time — was promoted to replace GM Jay Rand, who left to become executive director of the New York Ski Educational Foundation.
The transition this year is familiar.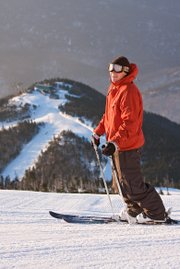 ORDA has named Assistant GM Aaron Kellet to replace McCulley as the Whiteface GM. Kellet, a 2009 graduate of Plattsburgh State University College, began working at Whiteface in 2000 as a member of the mountain's terrain park crew. Five years later, he was promoted to terrain park and half-pipe manager before becoming the assistant general manager to McCulley in 2009.
"I have always been impressed with Aaron," ORDA president/CEO Ted Blazer said in a prepared release. "He has a style that combines knowledge and diplomacy that will make him successful at the mountain. Whiteface has an incredible staff and I'm confident that the combination of Aaron at the helm and the wonders that the staff performs, that we all will be in good hands."
Kellet said he's honored to accept the new position.
"Being the GM of Whiteface has been a dream of mine since the first time I skied down Cloudspin in the early 90s," Kellet said in the ORDA release.
Kellet began skiing at the age of 2 and started skiing Whiteface in 1992, with his father, Rob, a member of the mountain's ski patrol. He also competed internationally in aerials and moguls.
Kellet makes his home in Jay, where he and his wife, Lindsay, are expecting their first child in December.
In other news, Lauren Garfield was named Whiteface Mountain's sales and marketing manager. Previously, she had been employed as the mountain's group sales manager. Joe Shoemaker took over the position of group sales.
Vote on this Story by clicking on the Icon