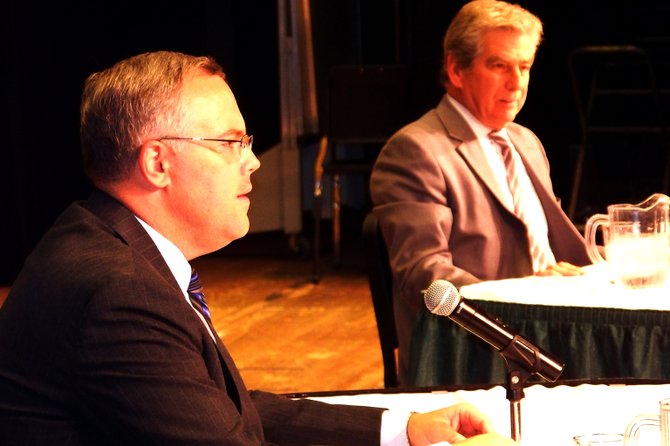 QUEENSBURY — Facing off in a political debate, state Assembly candidates Dan Stec and Dennis Tarantino both contended Tuesday Sept. 25 they will best represent the voters of the 114th Assembly District.
Stec is the Republican candidate and supervisor of the town of Queensbury, and Tarantino is the Democratic candidate, employed as an attorney in Glens Falls.
The forum, sponsored by the Adirondack Regional Chamber of Commerce, was held in Queensbury High School.
While both agreed that economic expansion and job creation was a primary legislative concern, the two offered opposing views on several issues including hiking the minimum wage.
Stec said increasing the minimum wage would throttle economic expansion and put people out of work.
"The economy is fragile, and New York has the next-to-worst business climate," he said. "Business owners say raising the minimum wage would do more harm than good and cause layoffs."
But Tarantino said he supported an increase, saying that it would spur economic activity, raise workers' standard of living, and reduce public assistance payments.
"I strongly advocate raising the minimum wage," he said, noting that it is now is barely above the federal poverty level.
"An increase is not going to cost jobs, and it's the right thing to do for low-income families — working people need the raise."
Tarantino said he was seeking the Assembly post because he wanted to advance the progress made during the Cuomo administration. As a member of the majority, Tarantino said he'd collaborate with fellow Democrats and steer more state money now spent downstate to address upstate issues.
"I want to see that we in the North Country get our fair share," he said.
Both said they were dedicated to get things accomplished in a bipartisan manner.
Tarantino said he had years of experience in compromise, a necessary skill for advancing legislation.
(Continued on Next Page)
Prev Next
Vote on this Story by clicking on the Icon