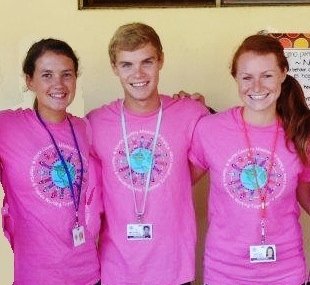 continued — The trip was life-changing, Mitchell Beers said.
"The highlight of the trip for me was when I realized that I'm not helping because it's the right thing to do, but rather I was helping because there wasn't any other choice in my heart," he said. "Everyday there is 'playground,' a time when the local children living near Nicasa get to come inside the walls and interact with us. The time spent when I played with these loving and kind children, was the most important. They became a part of my family, and helped me strive to want to make the world they live in a better place."
Mitchell Beers said the experience is unforgettable.
"The trip left so many lasting impressions on me," he said. "The main thing I think I learned though was kindness. The people in Nicaragua live in such poor, poverty-stricken areas. Their everyday lives consist of trying to support the next meal for their families. Yet, even in the midst of such despair, they find some way to be kind to one another, and have such a great sense of community. I am definitely more grateful for what I have and I know now that there is always a way to find happiness, and always the opportunity to be kind."
That kind of thinking impressed his sister.
"It's great to see the compassionate people that Mitchell and Clare have become," Nicole Beers noted.
Nicole Beers was also stuck by the plight of HIV-infected children, who are often abandoned by their families because of social stigma.
"I was angered and saddened," she said. "These children had contracted HIV through no fault of their own."
The St. Lawrence student, who hopes to attend medical school, recalled meeting a 7-year-old girl who could not walk at the birthday party organized by volunteers.
Vote on this Story by clicking on the Icon