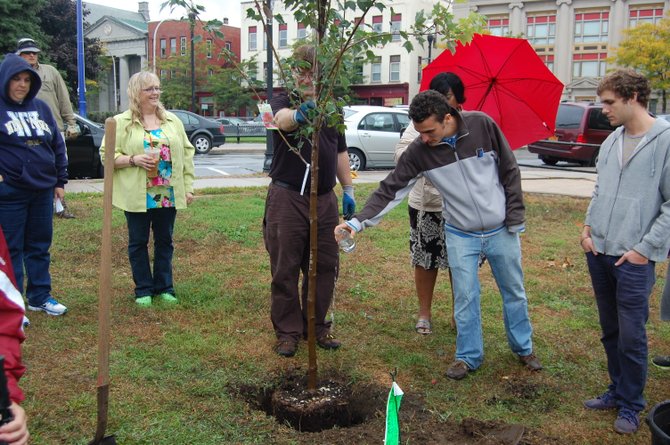 The Common Council gave O'Connell the go ahead, but she still needed signatures from several agencies, a process that lasted up until the tree planting, which was expected to draw up to 100 people.
The sky was dark overhead the day of the planting. A light rain wet the ground as people gathered under a small tent while others held umbrellas and some simply stood in the rain as people shared stories, poetry and song about inspirational environmental efforts around the world.
Jeff Cochran led everyone in a tree-planting ritual that consisted of verse and body movement, outlining the connection between humans and nature and the body and trees.
"Trees pull the sky to the Earth for us," Cochran said.
Vacarr shared stories about his friend, saying they often hiked together and his friend seemed to have a special bond with nature.
"This is a beautiful, symbolic and practical action to quite literally save the planet," O'Connell said of the tree planting. "Global climate change is being caused by human beings.
"I wanted to bring the community together to bring a symbolic change to Plattsburgh, and I wanted everyone to have their voices heard."
Vote on this Story by clicking on the Icon