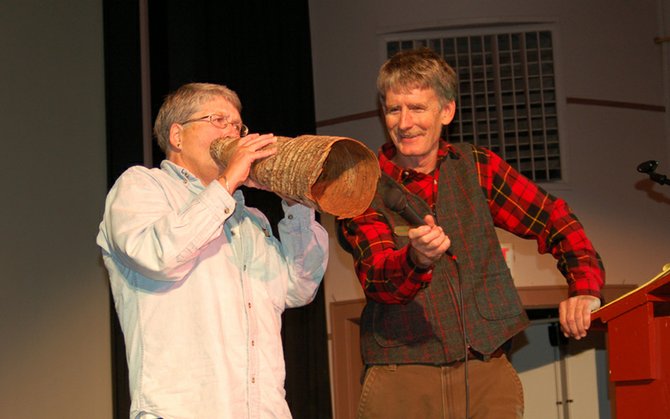 continued — Cullen's moose call did sound angry, and the audience loved it.
"Ooh, nicely done," Ed Kanze said.
Third place went to Natalie Puterko of Indian Lake.
"Ah, good," Ed Kanze said after her call. "Sounded just like a moose calf that had just eaten three or four pounds of striped maple and that's something to say," said Ed Kanze.
Then a boy only a couple feet high, known only as Grady, won the hearts of the audience and took home second place.
When it came time to announce the first-place winner, everyone, even the guy in the moose costume, waited on the edge of their seats. And with 14 kids, it was a tough choice.
"But the first prize by a claim of all the judges goes to Cullen Rose," Ed Kanze said before reacting to Cullen's excitedness. "All right Cullen. Cullen can't wait to get his hands on the trophy here. He's practically in tears. He hasn't won first prize in anything ever. I think this is the beginning of something."
"I've never won first place for anything in my life," Cullen said as he left the stage with his brother in tow.
"I'd just like to congratulate my very good brother of moose calling for being the winner," Andy said.
Cullen Rose walked away with the biggest smile of his life, and he's making plans to come back next year, to defend his title at the Great Adirondack Moose Festival.
Vote on this Story by clicking on the Icon