Ticonderoga — "Every day may not be good, but there's something good every day."
That's been Wendy Shaw's mantra the past three years as she's battled breast cancer.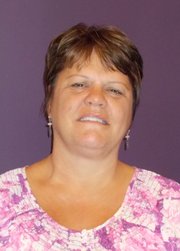 "That's been my saying through this whole cancer journey," the Ticonderoga woman said. "And it's true. Something good has happened every day of my cancer treatment — a phone call, a visitor, a card — every day something happened to help me. I'll never forget the day Barb (friend Barb Greer) brought me a glass of iced tea. She'll never know what that meant to me at that moment."
Shaw learned in October 2009 she had ductal carcinoma, the most common form of breast cancer.
"Cancer gives you a new outlook on life," she said. "What you thought were big problems are suddenly small problems. I appreciate every little thing now."
Shaw had a right breast lumpectomy in January 2009 and began radiation treatments five days a week at the C.R. Wood Cancer Center at Glens Falls Hospital. Those treatments lasted through April.
During that period another tumor was found on her left breast. It also required surgery, but was found to be benign.
Following the radiation treatments, Shaw was placed on a drug regiment to battle the disease. She suffered side affects, including the growth of tumors throughout her body. Those tumors also proved to be benign, but more surgery was needed to remove them.
A year after her initial diagnosis, Shaw developed seromas in her right breast. A seroma is a pocket of clear fluid that sometimes develops after surgery. The seromas were drained every two weeks until doctors learned they were being caused by damaged tissue, the result of the earlier radiation treatments. The solution was two more surgeries, including a bilateral mastectomy in February this year.
"I can't say enough good things about the people at the C.R. Wood Cancer Center," Shaw said. "They were so wonderful to me, so caring and thoughtful. They helped me through everything."
(Continued on Next Page)
Prev Next
Vote on this Story by clicking on the Icon