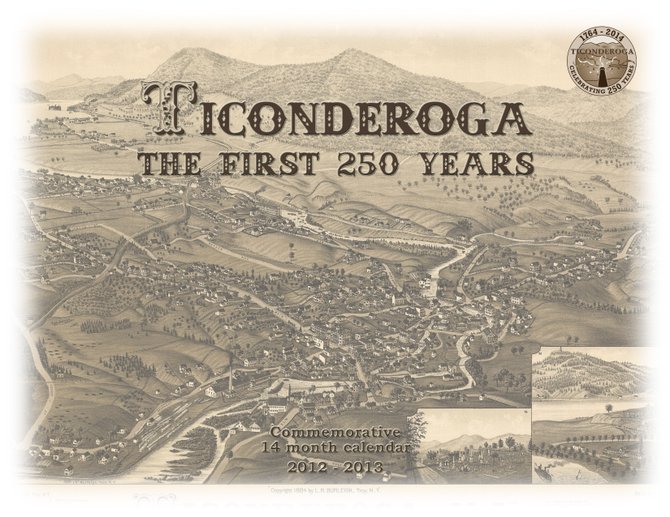 Ticonderoga — A new calendar will help support Ticonderoga's 250th anniversary.
The Ticonderoga, the First 250 Years Committee is selling commemorative 2012-13 calendars. The calendars, priced at $10 each, are available at the Hancock House, the Heritage Museum, Ticonderoga Area Chamber of Commerce and at upcoming events.
Each of the 14 months, which include November and December 2012, has a local community sponsor. Each month also has a specific theme with related historic photographs. The calendars highlight public figures from the past and chronicle significant historical events.
"It is stunning," said June Curtis, calendar committee member. "This is a collector's calendar, a keepsake and an ideal holiday gift. For the many of us who enjoy reliving memories of Ticonderoga from the old days, turning the pages will be like walking down memory lane."
Ticonderoga, the First 250 Years Committee will sponsor a signature event in July 2014 to celebrate the 250th anniversary of the settlement of Ticonderoga. Proceeds from the calendar sales will support the celebration.
Calendars will also be available from Ticonderoga Middle School students.
"We are fortunate to have partnered with Kyle Lang and his seventh grade students of Ticonderoga Middle School for the marketing of our calendars," stated Bob Dedrick, committee member. "The seventh graders are selling these as a fundraiser for their whale watch trip to Massachusetts. Purchasing a calendar from one of these students is a win-win situation, supporting this excellent educational endeavor as well as our committee's mission and as a result, acquiring an outstanding slice of history.
"We thank (Ti Central School Superintendent) John McDonald, Jr., Kyle Lang, the seventh grade classes and everyone in the community for participating," Dedrick said.
The committee, co-sponsored by the Ticonderoga Heritage Museum and the Ticonderoga Historical Society, has been formed to lead the community in commemorating the 250th anniversary of the settlement of Ticonderoga as well as the 200th anniversary of the Battle of Lake Champlain (War of 1812) and the 150th anniversary of the Civil War.

"The mission is for every individual, teacher, student, family, organization, association, club, business, church, to delight in and celebrate preserving and sharing our rich history and common past," Curtis said.
For more information contact the Ticonderoga Historical Society at 585-6943 or tihistory@verizon.net.
Vote on this Story by clicking on the Icon