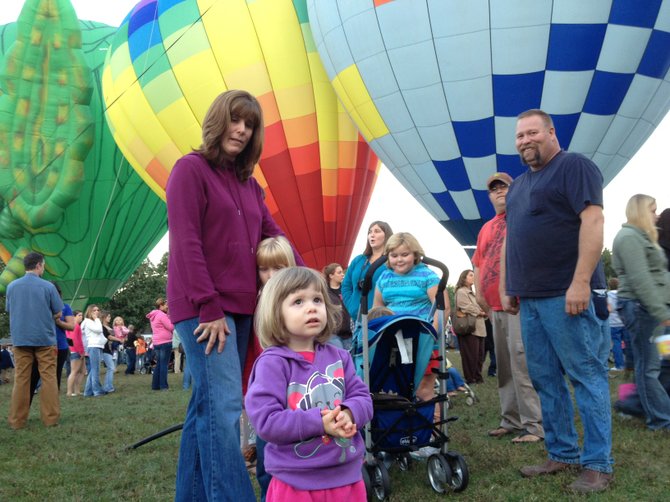 continued — "It seems like yesterday that this festival started up," she said. "I'm so thankful younger people have taken it over and are running it. I can't imagine our community without it."
Adirondack Balloon Festival President Mark Donahue, Walk Grishkot's successor, leaned over and asked Joan Grishkot a question about vendors' contracts, before taking a break to watch a liftoff.
"We couldn't do this without Joan -- she's a huge part of this event, and she's like my second mother," he said. "I'm ecstatic about the crowd today."
Donahue watched dozens of parents and their children cheer a liftoff.
"It was Walt's philosophy that the community owns the event, and that's why it continues to be operated by a non-profit organization and run strictly by volunteers," Donahue said.
About 40 yards away, John and Melinda Lee, and their three young children watched a liftoff. In her mother's arms, Gwendolyn, 2, waved to a multi-color balloon as it took to the air, while 18-month-old J.T., 18 months, watched the spectacle wide-eyed, riding on his dad's shoulders.
The couple has attended the balloon festival ever since they moved to Queensbury four years ago, John Lee said.
"To us, this symbolizes the start of autumn," he said. "With everything that goes on around here, this event sets the tone."
Nearby, Leta Lynch of Lake George aimed her new iPad at an inflating balloon, taking photos from various angles, soon after she'd recorded images of various smiling people in the crowd gazing skyward.
"I love the festival here in Crandall Park -- it's oriented toward families, and it's so much fun for everyone."
Nearby, Carol Pluta of Saratoga Springs held a guide rope on her family's balloon, Friendship Too. Pluta and her husband and son attended the festival for years, serving on other balloonists' crews, before acquiring a balloon.
Vote on this Story by clicking on the Icon