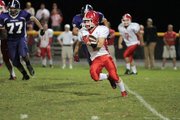 Football
AuSable Valley 0-0-6-0 6
Peru 20-14-7-0 41
Peru: Blake Altizer completed 9 of 14 passes for 167 yards and three touchdowns, connecting with Noah Phillips twice for scores totaling 78 yards and Bret Boyer once (Boyer had three catches for 39 yards total). Mackenzie LaRocque ran the ball eight times for 111 yards and one score, while Hunter Bruno had five carries for 30 yards and two touchdowns.
AVCS: Dillon Savage carried the ball 16 times for 55 yards, while Kodie Simpson had 10 carries for 45 yards and the games lone score. Simpson also completed one pass for 24 yards.
PHS 7-0-0-7 14
Beekmantown 8-14-7-0 29
BCS: Michael Guerin ran the ball 13 times for 101 yards and the opening score for the Eagles, while Dustin Pickering ran for 41 yards while recording a touchdown thanks to an interception on defense. Zachary Myers threw for 34 yards and a score while rushing for 36 yards and one score. Quenton Barber was the lone recipient in the passing game, hauling in the 34-yard scoring play.
PHS: Shawn Courson scored on a one-yard rush and 35-yard interception return for the Hornets while throwing for 88 yards. Jonas Miller ran the ball 13 times for 53 yards, while Sean Shea added 51 yards on the ground.
Saranac Lake 23-7-0-0 30
Ticonderoga 0-0-0-6 6
SLCS: Matt Phelan threw for 11 yards and one score while rushing for 59 yards and two more for the Red Storm. Lance Ackerson added one score on 16 rushing yards, while Derek Thurber ran for 70 yards, Seth Pickreign 62 (along with 36 yards receiving) and Dylan Gunther 43. Kevin Morgan caught the lone receiving touchdown, while Mike Burpoe had 40 yards receiving.
Saranac 0-0-8-0 8
Moriah 0-0-0-15 15
Saranac: Matt McCasland scored the lone touchdown of the game for the Chiefs on a six yard run and added the two-point conversion. McCasland finished with 88 yards on the ground, while Ethan Goslin was held to 27 yards throwing and 20 yards rushing. Tanner Rascoe picked off a pair of Viking pass attempts, while Kevin Jordan also recorded an interception.
Vote on this Story by clicking on the Icon