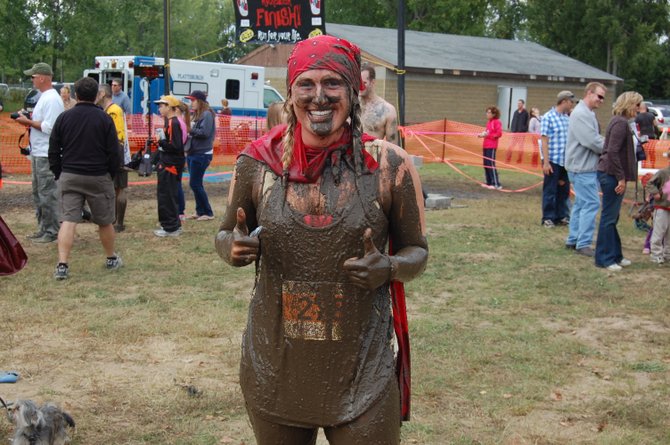 The ballerina pulled herself up, still up to her knees in mud as she stumbled to the left, right and then gritted her teeth and yanked each leg out with a "schlock,"and was suddenly on the grass and crossing the finish line.
And like the princess and the Batman before, all dripping with mud, she smiled victorious in a contest that seemed more about finishing than winning.
To the right of the finish line, a trio of skeletons, all in black with short rainbow skirts, watched silently, keeping a counsel those around them seemed to avoid.
Captain Crunch nearly lost her hat in the mud, teeth clenched and worn after conquering sand, pavement, water, grass, mud and fire.
"The sand is the hardest," said Jennifer Blake. "I need to train to run in the sand next year.
"I got stuck in the mud and pulled a friend down, but I finished."
Another competitor in black spandex and a skirt dove into the mud pit as two tiny voices in the roaring crowd chirped, "C'mon mommy! C'mon mommy!"
Back at the start of the track, wave 3 stretched and bounced up and down as two members of a New York state militia artillery unit from the War of 1812 solemnly approached the cannon, lit it, and, boom, the explosion shook the trees as Mr. and Mrs. Clause were swallowed by the pack.
The race at Plattsburgh City Beach totaled 3.1 miles, with waves of runners starting every 30 minutes. They ran over the City Beach, Heritage Trail, Scomotion Creek area and along the Crete Civic Center, navigating a tunnel crawl, scramble net, water wading, fire jumping and mud pit.
Mathew Corbine of Plattsburgh took first place with a time of 23:56, while Cassie Sellars of Granby was the first female finisher with a time of 26:28.
After the race, athletes painted in mud used their teeth to open water bottles and washed at cleaning stations, the latter gazing up at something I could not see, perhaps their time-vortex taxi home.
"It was terrible," said Captain Underpants, who revealed her secret identity to be Kara Mariano, a student at Plattsburgh State, "but awesome."
"I'm doing it next year."
Vote on this Story by clicking on the Icon