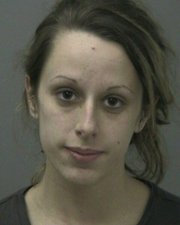 A mother and daughter were arrested in an alleged meth lab bust Sept. 10.
Susan J. Filion, 46, of Redford, and her daughter, Audrey Filion, 19, were arrested after members of the Adirondack Drug Task Force along with the New York State Police Troop B Narcotics Enforcement Unit executed a search warrant for Susan's home in Redford.
New York State Police said in a press release that, "information was developed that gave police probable cause to obtain the search warrant which lead to the seizure of methamphetamine manufacturing materials."
Susan was charged with Unlawful Manufacturing of Methamphetamine 3rd degree, a class D felony. Audrey, who was present at the residence at the time, was charged with Criminal Possession of a Controlled Substance 7th degree.
Additional charges may be pending upon further investigation.
Susan was committed to the Clinton County Jail without bail and Audrey was released on an appearance ticket.
The Adirondack Drug Task Force is made up of members from the Drug Enforcement Administration, the New York State Police, the Plattsburgh City Police Department, the Clinton County Sheriff's Department, US Border Patrol, Homeland Security Investigations, and the Clinton County District Attorney's Office.
Vote on this Story by clicking on the Icon