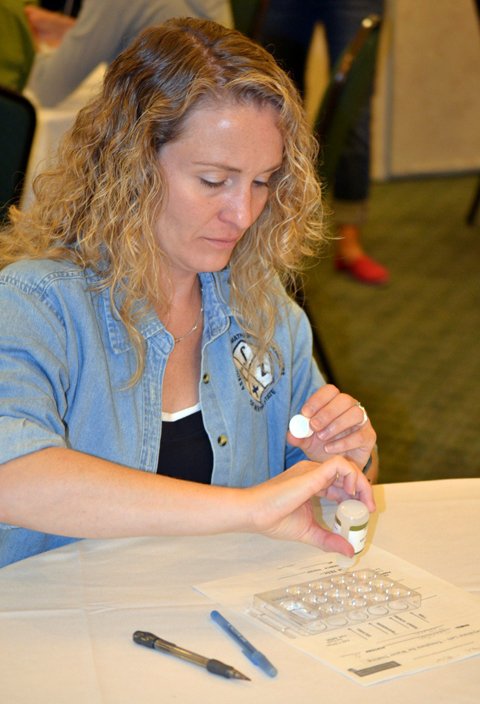 The multiple disciplines represented, like math and art, also provided different points of view in the problem-solving process.
But as the participants uncovered more about the water's source of contamination, they also began uncovering something about their own methods — bias.
"The conference focus was recognizing bias in research, but they didn't teach us about bias," Oliver said. "It took about two-and-a-half days before we realized it, but as we did our research, our own biases started to pop up."
For Oliver, the realization shined a light on a bigger problem.
"I think bias is huge in science right now; doing research to bring you to an answer instead of doing research and discovering an answer," Oliver said.
Oliver found the realization useful, and applicable to his own teaching methods.
"I'd like to open up the minds of the kids," he said. "People can be wrong, and you just have to go where the evidence leads you, even if you don't like where it leads."
Colleen Ryan, a math teacher at AuSable Valley Middle School, said the program made her feel recharged, and ready for the new school year.
"I am going to be promoting this wherever I go," Ryan said.
It also gave her ideas on how to engage students in math by incorporating real-world issues, and research, into the lesson plan.
One of Ryan's favorite aspects of the program was the water quality testing, something she hopes to bring into her classroom.
"This was a new experience," she said. "I'm a math teacher, but I will be tapping into knowledge from science teachers now. Ultimately, when I learn my students learn, and that makes them better citizens."
The multi-disciplinary framework of the program received resounding praise from all three local teachers who attended it this summer, including Kathleen Sciole, a science teacher from Stafford Middle School in Plattsburgh.
Vote on this Story by clicking on the Icon