Phlen had a big game, running for 59 yards and two touchdowns, while hitting 10-of-13 passes for 111 yards and TD.
Ticonderoga avoided the shutout when Ty Denno scored on a 7-yard pass from Mike Graney in the final quarter.
Miles Austin led the Sentinels, running for 113 yards on 21 carries.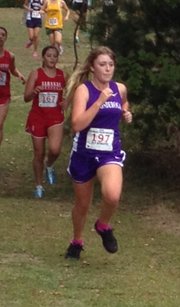 Cross Country
Ticonderoga took second place in the Section VII Cross Country Invitational boys race Sept. 15.
The Sentinels tallied 65 points. Beekmantown won with 60.
Shawn Silliman paced the locals, finishing seventh.
Javeed Nazir was ninth, Tyler Belden 11th, Jacob Young 17th, Kody Parrent 21st, Milo Stricker 48th and Colvin Chapman 51st.
Ticonderoga was seventh in the girls race with 174 points. Peru won the meet with 27.
Naomi Forkas led the Sentinels, finishing 13th.
Ashline LaPerle was 32nd, Hannah Herbst 39th, Markie teRiele 41st, Becky Barber 49th and Alaina Bevilacqua 50th for Ticonderoga.
Vote on this Story by clicking on the Icon