Port Henry — Students, of all ages, are back in classrooms. That includes students in the Literacy Volunteers of Essex/Franklin Counties program.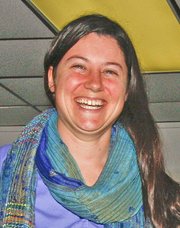 "During this time of the year, many families focus on their children's education, but not much thought is given to adult education and how it impacts our individual homes or our communities," said Maria Burke, Literacy Volunteers of Essex/Franklin Counties director. "Believe it or not, there are approximately 30 million adults in the United States who function at or below basic literacy level. These individuals can perform only the simplest tasks such as signing a form. In New York State, one out of five adults falls in this category."
Burke said the Port Henry-based program can help.
"Literacy Volunteers of Essex/Franklin Counties is addressing this problem locally with individualized reading instruction for over 150 students, including neighbors in your community, inmates at local prisons, and foreign-born workers in local businesses," Burke said. "A majority of these students have shown academic gains and higher reading levels during the past year. Four students received their citizenship and many others improved their reading, writing, and speaking skills. Others graduated from English-as-a-second-language classes and moved on to the Basic Literacy Program to further improve their reading and writing skills."
Still, many area residents need literacy assistance, Burke said. Reading problems are common, even if not obvious.
"Many low-literacy learners find ways to hide their reading challenges from their coworkers and friends, even their own families," she said. "Common avoidance techniques include finding an excuse to steer clear of reading aloud, hiding their writing from others, not completing forms in the presence of others or committing everything to memory to avoid jotting things down.

"Yet there is hope for these individuals," Burke said. "A classroom may not have been the best educational environment, but there are literacy organizations throughout New York State that provide one-on-one assistance for these low-literacy learners. Literacy Volunteers of Essex/Franklin Counties is a community-based, charitable organization that provides student-centered instruction for adult learners. Whether a student's goal is it read to his or her children, obtain their high school equivalence degree, become a citizen of the United States, or gain employment, we support each learner by enabling him or her to achieve personal goals through literacy."

(Continued on Next Page)
Prev Next
Vote on this Story by clicking on the Icon