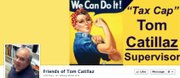 continued — Catillaz campaign: It's hard to quantify the importance of Facebook in Tom Catillaz's campaign. We see Facebook as being a useful tool for getting Tom's message out in a clear, positive and dynamic manner. However, while Facebook is important, it doesn't replace tried and true political methods such as door-to-door canvassing. Voters demand and deserve personal contact with a candidate to believe that they indeed have a voice. It's through these efforts that Tom has gained a better understanding of just how frustrated Harrietstown voters are with ever-increasing taxes, huge deficits, stagnant growth and overall inaction that is emblematic of his opponent's track record.
Do you think the Like count is any indication as to how your candidate will do in the election?
Bevilacqua campaign: No, not entirely. For the most part, the social media permits the spread of messages quickly; establishes calls to action; and encourages dialogue. The like count permits you to estimate positive or negative interest in the subject matter of the moment. Since the dialogue is in both directions, both the candidate and the visitor are able to familiarize themselves with the issues. Most important: One is not asking for votes via FB, one is asking for a connection.
Catillaz campaign: The "like" count is not necessarily an indicator of who will win the election. However, the like count has provided us with some positive feedback with regard to the level of support for Tom Catillaz and his platform. While Tom appreciates the number of likes he continues to receive, he realizes that hard work, experience, and an in-depth understanding of the issues is what really wins elections.

What is your Facebook strategy and goals and what are you uploading?
Bevilacqua campaign: Measurements are key to the strategy for all the reasons indicated previously! Posting time is critical. Posting should optimally occur when visitors are online; not when they are sleeping. We upload the issues; the position; the participation; the character. Agendas cannot be made up; personas cannot be faked. That phoniness will become readily transparent to the visitor community and the FB page will simply fall flat. Remember, the goal is establishing trust through connectivity.
Vote on this Story by clicking on the Icon