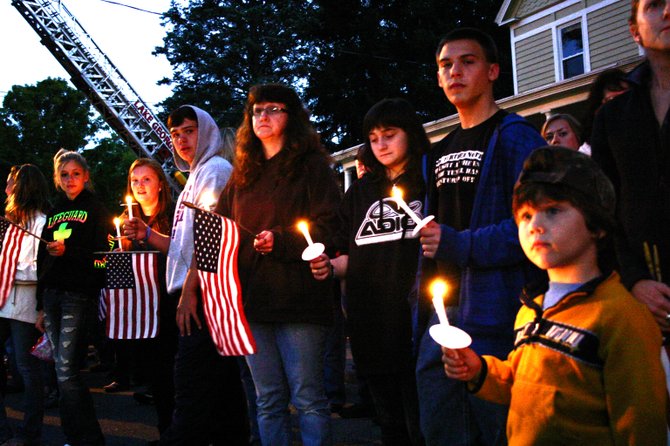 continued — A statement from Gov. Andrew Cuomo was read, urging that all citizens never forget the bravery and courage of the 9/11 first responders, as well as the outpouring of goodwill, in the attack's aftermath, from communities across the state, nation and from many nations.
A video, depicting some of the scenes from 9/11, juxtaposed with portraits of emergency responders who died in the attacks, was projected onto a screen for all to view. A second patriotic video, emphasizing the resolve of the U.S. to defend itself from tyrants, prompted cheers from the audience.
Participating in the ceremony were dozens of firefighters from the following fire companies: Bolton Landing, Chestertown, Garnet Lake, Horicon, Johnsburg, Lake George, North Creek, Pottersville, Queensbury Central, Stony Creek, Thurman, and the host, Warrensburg Volunteer Fire Co.
Warrensburg Emergency Medical Services had a large contingent of its members present. Thurman Emergency Medical Services was well represented, with six members attending the services.
Giant U.S. flags were draped from the extended ladders of tower trucks provided by Lake George, Queensbury Central and Pottersville Fire companies.
Former Warrensburg Chief Scott Combs rang a ceremonial bell to memorialize firefighters statewide who died in the line of duty. Local firefighters Justin Hull, John Hensler and Rob Nelson laid a memorial wreath at a monument in front of the bandstand.
U.S. Air Force serviceman Ryan Griffin, son of firefighter Bob Griffin and wife Edrie, led the parade from the fire house to the memorial bandstand, a march that launched the ceremony. He was introduced during the service as a "surprise guest," returning to the U.S. from deployment in Germany. The crowd greeted him with cheers.
Warrensburg High School Band played the National Anthem and God Bless America, prompting more cheers from the crowd.
Vote on this Story by clicking on the Icon