Ticonderoga — A quartet of Sentinel stalwarts will be inducted into the Ticonderoga High School Hall of Fame.
Jamie Rockhill, Kristin LaVallie, John Reale and Rick Liddell will be added to pantheon of sports stars during ceremonies Saturday, Sept. 19. They will be honored during a dinner at the Ti Knights of Columbus at 5 p.m. and cited again during halftime of the Ticonderoga homecoming football against AuSable Valley. That game starts at 7:30 p.m.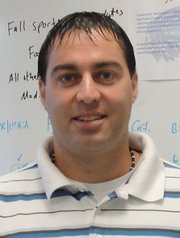 Rockhill, a 1990 graduate, was a football, basketball and track standout for the Sentinels. A quarterback and safety on the football team, he received honorable mention all-Champlain Valley Athletic Conference recognition in 1989. He was a second team CVAC all-star in basketball. He served as captain of both teams. He won section championships in the 100-meter sprint and high jump in track.
Rockhill went to SUNY-Cortland where he played basketball and attended graduate school at St. Rose. He resides in Altamont with his wife, Tara, and three children, Caleb, 9, Thaddaeus, 7 and Dru Elizabeth, 1. He is currently the athletic director/assistant principal at Schoharie Central School. He is also the vice president of Section II in the New York State Public High School Athletic Association.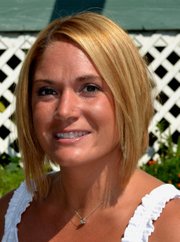 LaVallie, a 2002 graduate, was a basketball and track standout for the Sentinels. A CVAC basketball all star, she led Ticonderoga to league and section championships in 2001 and 2002. She was an all-state selection and served as team captain. In 2002 she received the Northern Adirondack Girls Basketball Officials Association Scholarship. In track she qualified for the 2002 state championship meet.
LaVallie went to Norwich University where she played basketball and rugby. She now resides in Burlington, Vt., and works at UTC Aerospace Systems in Vergennes, Vt.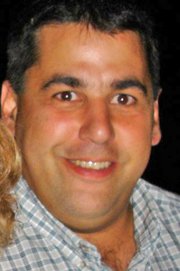 Reale, a 1985 graduate, was a football and track star for the Sentinels. In 1983 he earned CVAC all star honors as a defensive tackle. In 1984 he was football team captain and a CVAC all star at defensive and offensive tackle. He was 1984 WEAV Radio Offensive Lineman of Year and helped the Sentinels to a league championship. He also competed on the 1984 and 1985 track teams.
(Continued on Next Page)
Prev Next
Vote on this Story by clicking on the Icon