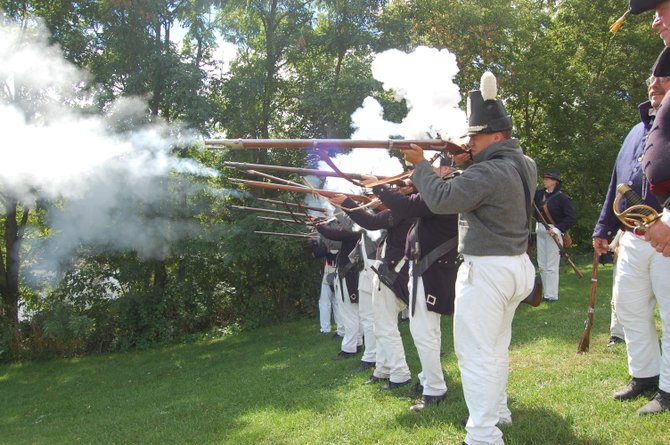 Prevost's attack was to begin when the naval battle started but got underway about an hour later than planned.
The Americans gained an early advantage.
As Red Coats fell during the re-enactment in Plattsburgh, people from the crowd, the smell of gunpowder in their nostrils, shouted, "We got one. We got one. Finish them off." Seemingly in response, more bodies fell as drums pushed the soldiers forward and children laughed with their parents.
During the real battle, when Prevost learned Downie's ship had been defeated, he called retreat, knowing any further attack was worthless without naval support.
The Battle of Plattsburgh ended the final invasion of the northern states during the War of 1812.
America used the victory at Plattsburgh to demand exclusive rights to Lake Champlain and deny the British exclusive rights to the Great Lakes.
The victory at Plattsburgh and British failure at Baltimore prevented the British from making demands for territorial gains in the Treaty of Ghent.
"Plattsburgh was the most important battle in the War of 1812," Herkalo said.
Vote on this Story by clicking on the Icon