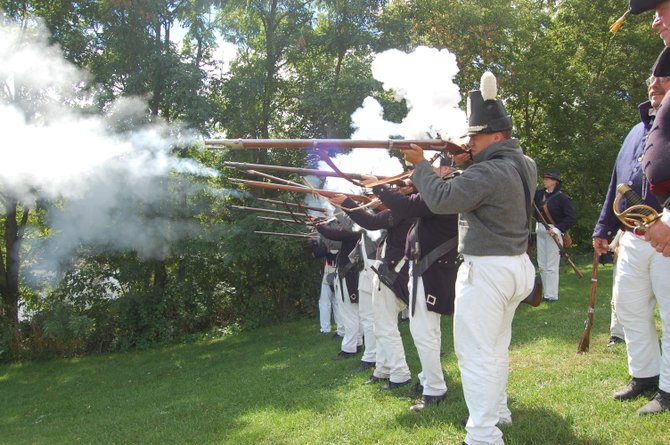 PLATTSBURGH — Soldiers marched in columns past the Champlain monument in Plattsburgh, stopped within 100 yards of the enemy near the edge of Lake Champlain and fired, the smoke from their weapons reaching past the barrels as if to claim those still standing.
On Lake Champlain, the blast of cannons echoed across the waters, nearly covered by the fog of war.
It was 2012, but on that day, Plattsburgh stepped back to 1814 and the battle that became one of the decisive factors of the War of 1812.
"The battles took place for a two-and-a- half to three-hour period," said Keith Herkalo, Plattsburgh City Clerk, historian, author and narrator for the Battle of Plattsburgh re-enactment.
"Everyone thinks the most important battle of 1812 was New Orleans, but it was a diversion. The British didn't want it."
The British sent 16,000 troops to North America and instructions to Lieutenant General Sir George Prevost to invade American territory.
Prevost advanced down Lake Champlain, fighting briefly in Beekmantown in early September as he headed for Plattsburgh with 11,000 troops.
The British navy was to take control of Lake Champlain.
In late August, Major General George Izard had taken about 4,000 American troops to reinforce Sackett's Harbor, leaving Brigadier General Alexander Macomb in command at Plattsburgh with 1,500 American regulars. Most of them were recruits and invalids.
General Benjamin Mooers called on militia from Vermont and New York, although those men were largely untrained.
Plattsburgh's residents, nearly all 3,000 of them, fled the city.
On Sept. 11, 1814, at around 9 a.m., the British squadron attacked American ships on Lake Champlain. British naval squadron commander, Captain George Downie, was quickly killed.
British gunboats withdrew and British officers surrendered.
"There were 10 gunboats on each side, and none of them sank," Herkalo said.
Many of the British dead are to this day buried at a mass grave on Crab Island.
(Continued on Next Page)
Prev Next
Vote on this Story by clicking on the Icon