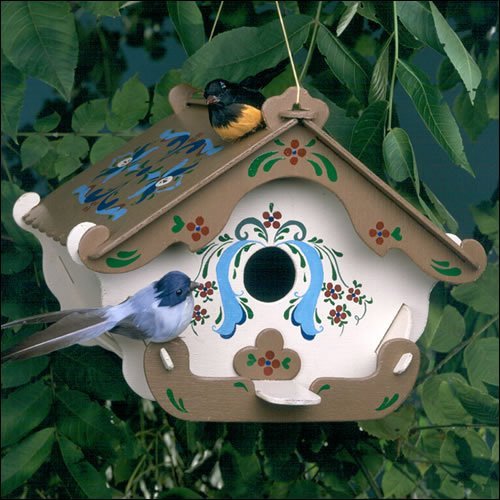 Ticonderoga — The third annual Ticonderoga street art project will conclude with an auction.
The art will be auctioned Thursday, Sept. 20 at the Ticonderoga Knights of Columbus. People are preview the art beginning at 5:30 p.m. There will be music by Nelson Shapiro and free appetizers at 6 p.m. with a cash bar. The auction will commence at 7 p.m. with professional auctioneer Rick Harker, the owner of Mountain Time Furniture.
Sponsored by the Ticonderoga Montcalm Street Partnership, this year's street art theme is "For the Birds." Community members and organizations purchased bird houses, which they decorated and will auction to benefit the TMSP.
"We would like to extend an invitation to the community to attend this lively auction and fundraiser," said John Bartlett, TMSP chairman. "The proceeds of the auction will be used by TMSP for continuing streetscape improvements along the Montcalm Street corridor. This year, we are hoping to re-light the lower falls of the LaChute River at Bicentennial Park."
Most of the uniquely-decorated birdhouses are inside storefront windows.Some are outside on display.
"We invite everyone to stroll along Montcalm Street to check out the wonderful creativity of this year's artists and, while you are there, stop in your favorite stores and restaurants," Bartlett said. "This event would not be possible without the incredible help of our sponsors, artists and local businesses who have supported the street-art program."
This year's sponsors and locations include:
Fort Ticonderoga, Ticonderoga Heritage Museum, Mountain Lakes Services, Ti Arts (Community Building), Deb Malaney (Community Building), Jay's Sunoco, Glens Falls National Bank, Burleigh Luncheonette, Ticonderoga Alumni Association (Amerigas), Doug and Barb Cossey (Amerigas), Community Bank, Ticonderoga Montcalm Street Partnership (Community Bank), Rathbun's Jewelers, PRIDE of Ticonderoga, Ticonderoga Revitalization Alliance, Mountain Time Furniture, LaChute Road Runners (Black Watch Library), Ticonderoga Area Chamber of Commerce, Montcalm Manor, Glens Falls National Bank (GFNB drive thur), Ticonderoga Kiwanis (Rite Aid), Ticonderoga Federal Credit Union, Mark Russell and Ticonderoga Country Club.
(Continued on Next Page)
Prev Next
Vote on this Story by clicking on the Icon