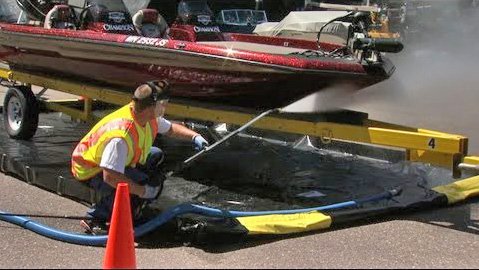 continued — Lake George currently has five invasive species in its waters— asian clam, eurasian milfoil, zebra mussels, curlyleaf pondweed and spiny waterflea. The LGPC spends more than $1 million a year to manage and eradicate invasive invasive species.
Cook stressed the expense of any invasive species prevention program is money well spent.
"It's much cheaper to keep invasives out that to remove them," Cook said.
Wick admitted no program will be 100 percent successful in the fight against invasive species. He believes the mandatory inspection and decontamination can eliminate 98 percent of invasive species from reaching Lake George.
The LGPC proposals for fighting invasive species are outlines on the agency's website, www.lgpc.state.ny.us
"There's no smoke or mirrors," Wick said. "All the information has been made available to the public. We've had meetings like this; it's on our website.
"At the end of the day the (LGPC) commissioners will make a decision," he added.
Vote on this Story by clicking on the Icon