Girls soccer
Ticonderoga 1, NAC 0
Like sharks in a feeding frenzy, the Ticonderoga girls soccer team swarmed the goal until coming away with a 1-0 win against Northern Adirondack in Northern Soccer League play Sept. 6.
Jaelyn Granger tallied with an assist from Kylie Austin in the first half and a stout Sentinel defense made it stand up for victory.
Megan Campney recorded the shutout for Ti with eight saves.
Photo Gallery
Schroon Lake v.s. Westport girls soccer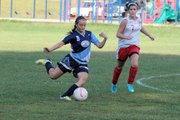 Schroon Lake win against Westport with a final score 3 to 2
Schroon Lake 3, Westport 2
Abi Veverka scored twice to lead Schroon Lake past Westport, 3-2, in Northern Soccer League girls play Sept. 6.
Veverka scored twice as the tams traded goals in the first half.
Lindsay Reynolds then tallied the game-winner with two minutes remaining in the contest.
Molly Wisser made seven saves in the Schroon Lake nets.
Chazy 3, Moriah 1
Moriah gave Section VII girls soccer power Chazy a score before falling, 3-1, in Northern Soccer League play Sept. 6.
The Vikings grabbed a 1-0 lead in the first half as Halie Snyder tallied.
Megan Reynolds scored to knot the game for Chazy before halftime. Goals by Rachel Pombrio and Hannah Laurin won the game for Chazy in the second half.
Lauren Cross made 16 saves on goal to keep Moriah in the tilt.
Boys soccer
Crown Point 7, Minerva-Newcomb 3
Gabe Macey scored four times to pace Crown Point past Minerva-Newcomb, 7-3 in Northern Soccer League boys action Sept. 6.
Joe Foote contributed a goal and two assists for the Panthers. Mike Enman and Kolby Pertak each had a goal.
Brendon Crowningshield made 17 saves in goal for Crown Point.
Cross country
Ticonderoga dominates
The Ticonderoga boys team dominated in Champlain Valley Athletic Conference cross country action Sept. 6. The Sentinels took the top four places as they beat Peru, 17-38, and Northeastern Clinton 16-47.
Javeed Nazir, who logged hundreds of miles this summer, showed the way. He covered the 5-kilometer course in 18 minutes, 28 seconds to win handily.
Tyler Belden, Shawn Silliman and Jacob Young followed for the Sentinels. Cody parent was eighth, Colvin Chapman 13th and Martin Glazer 15th for Ti.
Ticonderoga defeated Northeastern Clinton, 16-47, but lost to Peru, 15-48, in girls action.
Naomi Forkas paced the Sentinels, taking seventh place. Hannah Herbst was 12th and Becky Barber 14th for the locals.
Vote on this Story by clicking on the Icon