Westport — A quick moving storm made its way through Westport Sept. 6, up-rooting trees, damaging soccer equipment and cabins at Camp Dudley, even overturning an airplane at the Westport Airport.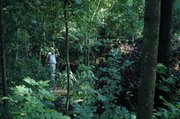 The storm hit around 4 p.m., as Camp Dudley Business Manager Fred Guffey was returning to town when he saw the system.
"It was quick, but very destructive," Guffey said. "While approaching we thought we saw what appeared to be a funnel cloud, but we sort of blew it off as just our imagination. When we got close to the Dudley Road, a "brown mass" of rain and wind swept across the road."
Director Matt Storey was in his office when the storm hit.
"It lasted about 15 minutes, and there were big chunks of hail on the porch," Storey said. "I looked at the basketball court and thought that there was a lot of brush for such a quick storm, then we went out and looked around."
"We had many trees down, damage to several buildings and limbs and debris everywhere," Guffey said. "We traveled up the road a short ways to where our soccer fields are located, and the goals had all been overturned and two large trees were down across the Dudley Road at the farm just north of camp."
Guffey also said that parts of two roofs from the farm had been blown off and pieces of the roofs were down in the Camp Dudley fields, over 150 feet away.

Guffey and Storey then went to North Point.
"We could see that all the tops of several trees had been blown out and the entire road to North Point was totally blocked by trees," he said. "Walking down to North Point, we came upon more trees down and debris."
Guffey said that the damage made him think again about the funnel cloud he thought he saw.
(Continued on Next Page)
Prev Next
Vote on this Story by clicking on the Icon