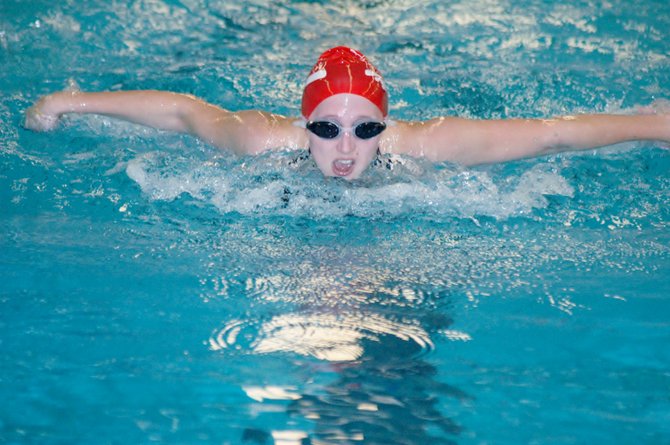 continued — "This year's team is relatively young and much smaller than last year's team," head coach Andy Johnson said. "It will be a challenge for us to compete against the larger schools of Peru and Plattsburgh."
Johnson said that his team is a mix of experience and young, promising swimmers.
"Team captains Tonie Cross and Alexis Provost are our center point of strength and leadership on the team, but watch for eight graders Lydia Brown and Emily McCormick to have some surprising swims this season," he said. "While returning swimmers Jasmaine Hall, Haley Sprague, Emily Wood and Megan Zmijewski are ready to fill in the gap left by last year's graduates."
Volleyball
AVCS volleyball roster
Name - Grade
Belle O'Toole - 12
Noelle Miller - 11
Lindsay Christian - 11
Miranda O'Neill - 11
Mirissa O'Neill - 11
Miranda Sheffer - 11
Lindsay Brown - 10
Alexandra Lincoln - 10
Jocelyn Raccette - 10
Head coach: Sandra Hoey
Assistants: Tammy Sheffer, Kevin Hoey
The AuSable Valley girls varsity volleyball team has won two straight Section VII titles and is looking for a third thanks to an experienced roster.
"We return five starters," Head Coach Sandra Hoey said. "Sophomore Alex Lincoln appears solid to replace Jacquie Hoey as libero. I have a great group of athletes with very supportive parents. I am looking forward to a fun and exciting season."
Noelle Miller, Mirissa O'Neill, Belle O'Toole and Miranda Sheffer return as starters, while Hoey said the sixth position is being competed for between Shelby Bourgeois, Lindsay Brown and Jocelyn Racette.
"They are competing for a starting position and court time," Hoey said. "Each offers something different to bring to the team."
Hoey said that hitting and serving remain strong points, but that defense will be a key to the season.
"The test will be our teamwork, especially on defense," she said.
Vote on this Story by clicking on the Icon