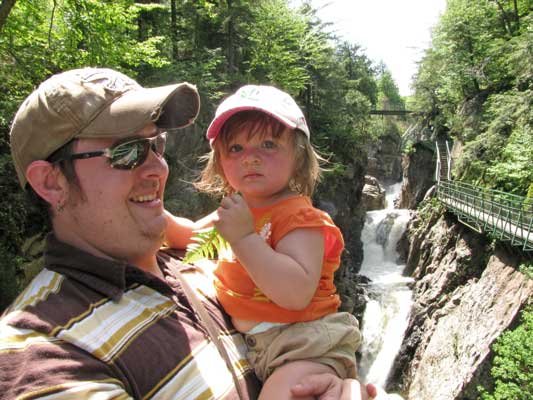 And then there was little Danika, petting every patch of moss, examining every delicate flower, chasing every swallowtail butterfly. The draw of this place is the West Branch of the Ausable River and the crack in the earth it occupies, but, as Danika had discovered, that is only a lure to something more grand.
As we explored the gorge, I began to realize that these businesses, the ones I had previously snubbed, are providing a service whose benefits cannot be weighed. As someone who understands that human health, a clean environment and education are imperative to a functioning society, I can easily make a direct connection between those needs and the importance of everyone having access to the outdoors.
Drawing parents and their children into nature encourages people like Danika and Andrew to take a closer look at the living world around them, and the interpretive signs along the trails are the perfect complement to that. This kind of interaction inspires more trips and other healthy activities, and promotes learning that is sparked by a curiosity about the world, something that leads to an understanding of nature that can only develop into respect and compassion for all living things.
The walkways and handrails found in places like Ausable Chasm and High Falls Gorge also help those who aren't as able-bodied navigate the wilderness. People like myself can talk about the obvious benefits of protecting our forests, water and air, but talk pales in comparison to the sight of water raging through a gorge, a pitcher plant in full bloom or a snapping turtle laying eggs. These places are alive.
Danika is a little older now, and her ability to pronounce the word "butterfly" has improved dramatically. Andrew calls me for advice regarding other hikes to bring her on, ones without wooden viewing decks and stairways, and I am happy to oblige. I think I will always remember that first adventure, though. It taught me that these places, with their interpretive trail signs and fences, are providing a service to everyone who appreciates the outdoors.
It's funny to me, how learning works. I never would have thought that watching a little girl show her daddy a fern frond could help complete the picture of the world as I see it.
Shaun Kittle is a reporter at Denton Publications and an avid outdoor enthusiast. He can be reached at shaun@denpubs.com.
Vote on this Story by clicking on the Icon