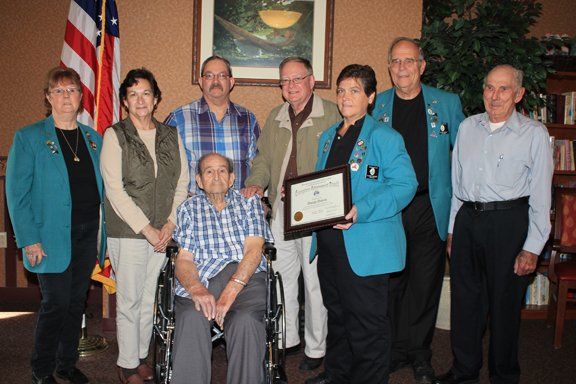 Ticonderoga — A long time Ticonderoga community leader has been honored.
Adolph Diskin was recognized recently by the Ticonderoga Elks for his 70 years as a member.
Diskin accepted the award from Elks Exalted Ruler Marge Hurlburt as family looked on. Also representing the Elks were Stella Kolysko, David Carr and Richard Nadeau.
Diskin, who will be 97 years old on Dec. 23, is a 1933 Ticonderoga High School graduate. He owned and operated Diskin Scrap Company — scrap metals recycling — from 1934 to 1993.
He was also very active in local politics, serving as a Ticonderoga Republican Committee member for more than 50 years.
Diskin served as a Ticonderoga village trustee and was town supervisor 1982 to 1987. He was Essex County Republican Election Commissioner 1989 to 1999.
He received the Harry McDougal Award from the Essex County Republican Party for meritorious service to the party.
Diskin was also involved in many community activities.
He served on the Moses-Ludington Hospital board of directors and chaired the fund raising campaign when the new hospital was built in 1980s.
He is a 60-year member of the Mount Defiance Lodge Masonic #794 and served as Essex County Masonic District Deputy. He is a member of the Oriental Shriners Temple and the Royal Arch Masons. He is a 50-year member of the Ticonderoga Eastern Star.
Diskin received the Liberty Bell Award from the Essex County Bar Association for outstanding service to his community and Essex County.
Vote on this Story by clicking on the Icon