continued — In the Class C championship game, the Saranac Lake Red Storm also jumped out to an early lead in defeating the AuSable Valley Patriots, 40-6, to capture their third straight title.
Senior quarterback Matt Phelan, usually a dual threat at the quarterback, stayed in the pocket to the tune of a 10-for-12 passing game, throwing for 181 yards and six touchdown passes. He connected three times with top target Kevin Morgan for 40, 36 and 47 yards, with Morgan finishing with 138 receiving yards.
Jonathan McCabe hauled in a pair of Phelan touchdown throws and finished with 34 yards receiving, while T.J. Monroe's lone catch from 13 yards out also resulted in a score.
While Phelan remained quiet on the ground, Seth Pickreign ran for 163 yards while Lance Ackerson added 35.
For the Patriots, Kodie Simpson threw for 100 yards and a scoring pass of 28 yards to Jonathan Luxon. Michael Thompson, filling in at the number one running back spot for the injured Dillon Savage, had 122 yards from scrimmage.
For winning, the Red Storm earn a trip to the field of the team they defeated, playing Ogdensburg Saturday, Nov. 3, at AuSable Valley with a 1 p.m. scheduled kickoff.
In Class D, the Tupper Lake Lumberjacks will host the Moriah Vikings in the regional round at Massena High School at 7 p.m. on Friday, Nov. 2.
The Lumberjacks are 2-6 on the season, dropping their tier II Section X game against Massena, 18-9.
Mitch Keniston led the offensive attack for the Lumberjacks, throwing for 135 yards and one scoring pass to Brock Tarbox (who finished with 80 receiving yards) while running for 148 yards.
Jeremy Roussel added 44 yards of rushing to the Lumberjack attack.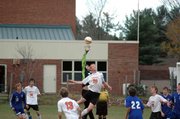 Soccer - Class D
Hurricane Sandy played spoiler to the Section VII/Class D playoff schedule, postponing both the girls and boys semifinal games to a date to be determined as of press time.
Vote on this Story by clicking on the Icon