I am on my wife's plan and not the Congressional plan.
Like all federal employees, everyone needs health care so you need a source. The pension only kicks in if you are there for five years and it is 1.3 percent which is contributed for vesting for you. It's not as people think, day one you get a pension and it is your full salary.
I am not sure how one covers 17,000 square miles without a few dollars. It costs money to run town halls, it costs money to set up offices and it costs money to travel around the district. I have returned between 10-12 percent of my budget because I managed to achieve my goal. We have been pretty successful at that. If you are going to talk about cutting, then you have to show that you can cut yourself. If you took 10 percent out of the federal budget, you would save about $300 billion, which would be a significant amount of money.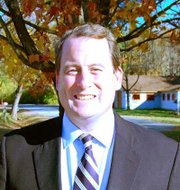 Matt Doheny
After hearing from and speaking to people in the 21st District, list the top three issues people in the North Country are facing, in your opinion, and how you would address them:
The first is the lack of growth in economy. Second is the lack of jobs because of lack of growth. The third would be the lack of government effectiveness in the sense of the debt blowing out to record levels and the sense of uncertainty in the economy. This is why I am running for congress.
I want everybody to have the same opportunities that our parents and grandparents had. I have taken on tremendous challenges and am a self-made man as a businessman. Bringing that know-how is what we need to bring the economy forward.
Jobs is a corollary of that. Private sector job growth is how we are going to have a vital economy here whether you live in the blue line or in a city area. I think I have an opportunity to be the salesman-in-chief.

Vote on this Story by clicking on the Icon