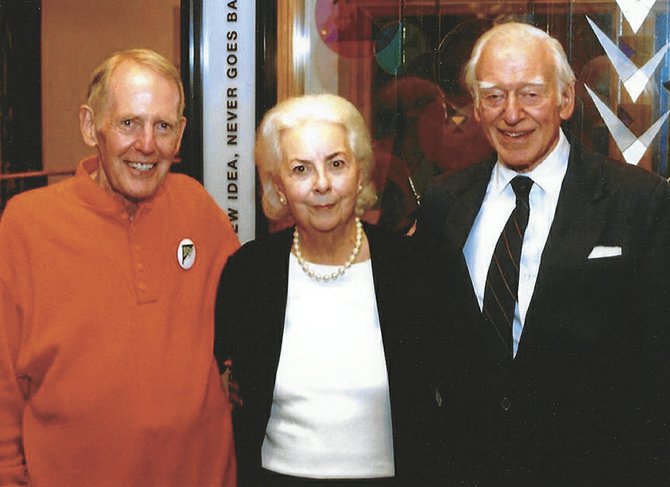 continued — Interspersed throughout the years were directing gigs in Texas, Connecticut, Kansas, New Hampshire, Westchester, and Long Island, and teaching gigs at UCLA, University of California at Irvine, Marymount College in Tarrytown, N.Y. and others. Finally Dye took a full-time job teaching theater and directing at the University of Akron in Ohio, where he worked for 15 years.
During his last years at Akron, Dye spent most weekends looking in six different states for the perfect secluded retirement spot — which he eventually found in North Creek. He has lived happily here since his retirement, where he has a log cabin home dubbed "Dialogue" and a large circle of close friends.
Since "retiring" to North Creek, Dye has founded and served as artistic director of the Our Town Theatre Group, served as president of the Johnsburg Historical Society, as the founder and president of the Upper Hudson Arts and Services Consortium, served on the Board of the Lower Adirondack Regional Arts Council, and he is a co-founder of the Hudson River School at Gore Mountain and Tannery Pond Community Center in North Creek. Earlier this year, the Gore Mountain Region Chamber of Commerce named Dye its "Person of the Year."
Friends Barbara MacNaughton and Rev. George Fleming (former pastor of St. James Catholic Church in North Creek) will accompany Dye to the Oklahoma City gala event.
Vote on this Story by clicking on the Icon